An American vehicle battery developer has achieved a 1200 kilometre car range using a modified Tesla Model S. The journey through the Mid West was completed on a single charge.
Our Next Energy (ONE), which was only established two years ago, said it had tested a prototype of its new battery in a Tesla Model S, driving 1,210 kilometres before recharging.
The breakthrough has been achieved using lighter structured batteries that are incorporated into the vehicle itself, so there is no need for a separate and heavier battery unit.

Batteries currently used in electric cars are very heavy and add considerable weight to the vehicle. This load adds to the drain on the battery and reduces range.
The system being used by ONE involves a battery that is much lighter and does not rely on the use of nickel and cobalt. Mining practices employed in extracting such materials have attracted criticism from human rights groups about the conditions in which miners have to work.
ONE says it will start producing battery packs that will deliver similar range — about double that of most existing electric vehicles — by late 2023, according to Mujeeb Ijaz, ONE's founder and chief executive.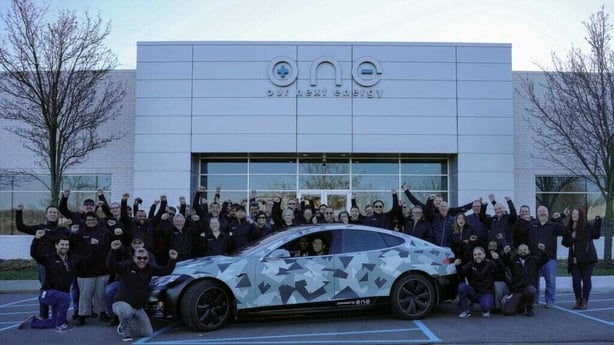 "We plan to build in North America, and believe it can be done economically," Ijaz said in an interview with Reuters.
Ijaz, is a former senior executive at Apple and A123 Systems, where he led teams developing battery systems for electric vehicles.
For ONE's Gemini battery, Ijaz told Reuters: "We want to eliminate both nickel and cobalt, but we don't want to give up energy density. We aim to re-invent battery chemistry as well as the cell architecture" in order to provide at least 1207 kilometres of range between charges.
"If you put that much energy on board, you are ready for anything the customer asks – a round trip from Detroit to Chicago, or towing a trailer."
ONE's range target is well beyond even the best of current electric vehicles, which can deliver a maximum range of about 800 kilometres.
Ijaz said ONE chose a Tesla Model S to showcase its prototype battery because "it has fairly high efficiency and a fairly large battery pack" which provided enough space to fit ONE's battery.
The testing was done in a road test, at an average speed of 88.5 kilometres per hour, ONE said.
It's interesting to note that the test was done in winter conditions, when electric cars tend to use much more battery power and also that the average speed was less than would be the case on motorways in Ireland, for example.