The Mazda may be as good as, and cheaper than, a comparable BMW or Mercedes but is there a future for saloon cars ?
Back in the late 90's, such was the ubiquity of the Ford Mondeo in front driveways around the UK that it enabled Tony Blair's political strategists to identify a new target demographic - Mondeo Man. This was a man seen as solidly suburban and striving for social and work advancement and he (and it was generally a he) tended to drive a Ford Mondeo. Labour won the subsequent election but, like the Mondeo, success was a formula only for its time.
Today and we see the demise of the Mondeo. Ford has killed it off as the tide turns increasingly to SUV and crossover-type cars. Driving the Mazda 6 recently I wondered just how much life it has left in it and whether it can survive in a class dominated by bigger names and German engineering and styling ? The 6 has been around a long time and manages to maintain an agreeable presence. It has neither a diesel or a hybrid offering and relies solely on a petrol engine at a time when Mazda and other manufacturers are moving away from the former and increasingly towards the latter at a very minimum.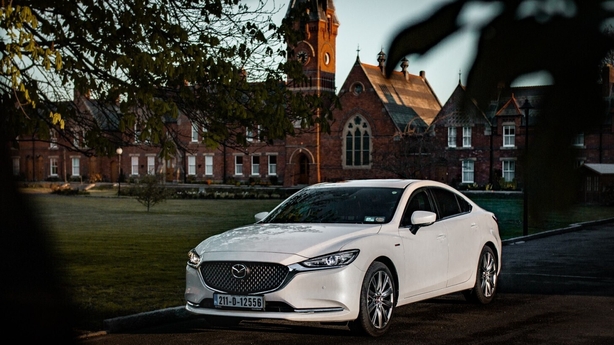 The 6 does retain some really good qualities in its driving, at least. It's comfortable and spacious for long journeys - its original purpose and its ride and handling still stand comparison with bigger names. Its engine, however, is limited by the lack of a turbo and this is especially noticeable when overtaking. A rather dated automatic gearbox doesn't help either. The car I drove had a 2.5 Skyactive engine that returned reasonable average consumption figures for an engine that size but 7.2 litres of petrol per 100 kilometres was not a good return for an energy-conscious driver, which we must all be now. The car was also significantly heavier on fuel in urban driving conditions but that's the case with most cars of this size. If you carefully monitor fuel consumption in urban conditions, you may find yourself being very surprised at how much fuel a petrol or diesel engine is using on a 10 km journey, say.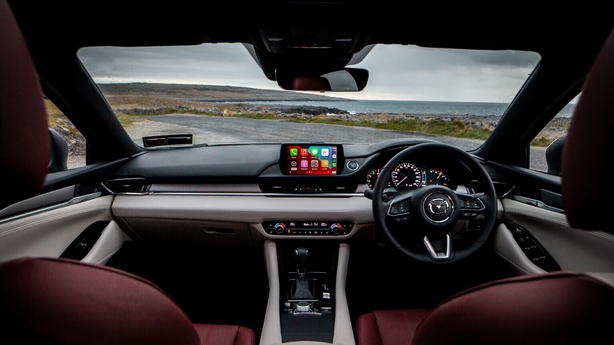 As it happens, the test car was designed to celebrate the 100th anniversary of the founding of Mazda and came with a particularly sharp interior, with red leather upholstery and head rests embossed with the company's logo. However, by comparison with other manufacturers who are now racing to outdo each other in the digital display stakes, the Mazda offering looks dated. There's an 8" touchscreen controlled by a rotary dial. Both are easy to use and are practical but they don't do very much to enhance the overall driving experience. The screen itself is too small to be modern and the graphics are dated. It accommodates both Apple and Android systems but it's hardly class-leading. It's also worth noting that most cars are designed for left-hand drive and are adapted for right-hand production, while most of us are right-handed. Using a rotary dial can feel counter-intuitive when you're using your left hand to adjust functions.
Mazda has done a good job of keeping the 6 fresh and throws in lots of extras to keep it in line with competitors. LED lights front and rear, a rear camera and 19" alloys were all features of the test car. The entry level version starts at E47,995, which is cheaper than a number of its competitors. The question, however, is whether cars like the 6 can continue to compete with rapidly changing times and tastes ? Big petrol engines have seen the moment of their greatness flicker, to borrow from T.S. Eliot in an altogether different context.