Skoda's new Enyaq show's how dramatic the improvement in electric cars has now become. Behind us are the days of cheap interior finish, charging frustration and experimentation.
Putting aside Skoda's latest peculiarly chosen car names, this one stands out. It's Skoda's first all-electric car - well, SUV - and the Enyaq has proven that you can have a mix of quality finish, interesting styling and, most importantly, a range that doesn't give you those white knuckle moments on a motorway. It, along with the VW iD, is one of the few electric cars whose available electric range matches the number of kilometres you've driven almost exactly. This is a very big step along the road towards comfortable accommodation of electric motoring.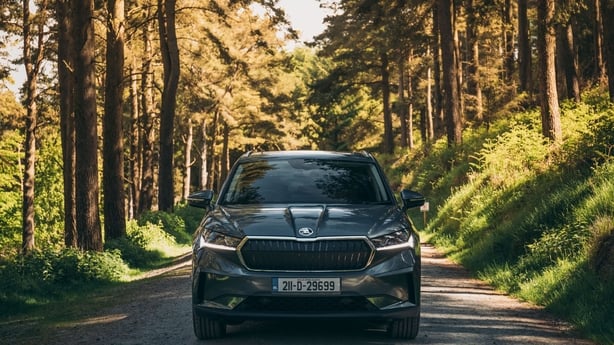 The Enyaq is big and sits usually on 19" wheels to give it a presence on the road. It has sharp lines and a profile suggesting strength compares, say to VW's iD (both cars are built on the same platform but the Skoda is slightly longer and looks it too.) It has big doors, allowing easy entry and egress, without a big drop to the ground when you step out.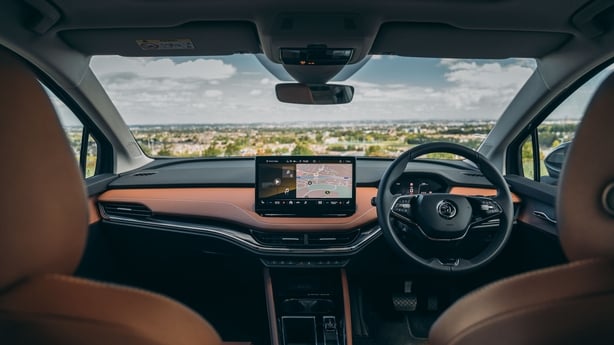 It also has an excellent interior - spacious, bright and comfortable and dominated by a 13" infotainment screen with excellent graphics and a really clear display. However, the smaller display for essential information in front of the steering wheel looks a little dinky and the battery level display - one you refer to frequently - is barely visible. You can, however, rely on the mega display on the big screen for the same information. It shouldn't be the case though.
It's also a great car to drive, nothwithstanding a little thrashy feedback from the rear suspension and some from the bigger wheels. On a longer journey you can appreciate the spaciousness and generosity of the interior space. This, combined with generous accommodation in the rear, makes it a remarkably designed interior and it becomes a major selling point.
However, it's the figures that count most when assessing the new generation of electric cars - range, charging time and the correlation between kilometres travelled and available rage. With a 100% charge, the suggested range was 506 kilometres - not the 535 claimed by Skoda for this bigger battery version. So I set off on a long journey with a lot of motorway driving. After driving 263 km, there was still 133 km available from the battery, which gives you a pleasant and worry-free 396 km range.
I don't ever accept manufacturers' claims about the ranges their cars are capable of. My experience in real-world conditions suggest you can comfortably lop off about 25% of the claimed range, especially when you're using extras that draw on the battery, such as the radio, demister, heater and so on.
In the case of the Enyaq I was able to get from Dublin to Cork on one charge and with 133 km capacity still available. The kilometres driven also matched the battery consumption and range indication. This is a major step forward.
Charging time on a fast charger got me from 18% to 80% in an hour, which was very good - even if it is off the mark in terms of what manufacturers claim is the fastest time. When I checked the charing speed, it was about 5 km per minute initially and then dropped off to 4km a minute. After an hour, I was able to drive away with an available range of 326 km. It's still not as fast as many of us would like but it's still impressive.
Of course, having a home charger is the real answer here. If you don't have one you are at the mercy of a still woefully inadequate network. Even some big filling stations don't have charging points and street ones are a completely hit and miss experience.
Skoda has also got its pricing right. The entry level 60 kW/h battery version starts at €37,465 and has a calmed range of 412 km. The version I drove had the 77 kW/h battery and it starts at 44,712. Another 2,000 will get you the interior with the faux leather featured above.
Standard features include the 19" wheels, the 13" screen, Android and Apple compatibility, front and rear parking sensors, a rear camera, satellite navigation and two USB ports.
You won't want for boot space, with an impressive 585 litres (a massive 1710 litres with the seats down) and there are plenty of storage areas.
When I drove the VW iD i noted that it was a car that had dislodged me from a seriously reserved position on electric cars at the time. Driving the Enyaq has almost dispelled these reservations.