Dacia plans to undercut some of the bigger names in the family car segment with its new Jogger model.
Dacia will unveil the new budget family car next week, with a choice of five or seven seat capacities. The Dacia Jogger will be revealed just ahead of the Frankfurt Motor Show. Few details have been released and there's no indication yet of prices. However, Dacia's major selling point has always been budget pricing and the car is aimed at undercutting more established names in the family segment. Its Duster model is a best-seller in Europe and has also been very popular in Ireland as a budget SUV.
Some images suggest it has a station wagon profile with touches of SUV styling. The fact that it will be available as a seven-seater will be of interest to many families, whose choices are currently limited and generally much more expensive. The Jogger is to replace the very dull Logan model, which may be cheap but it's not exactly cheerful.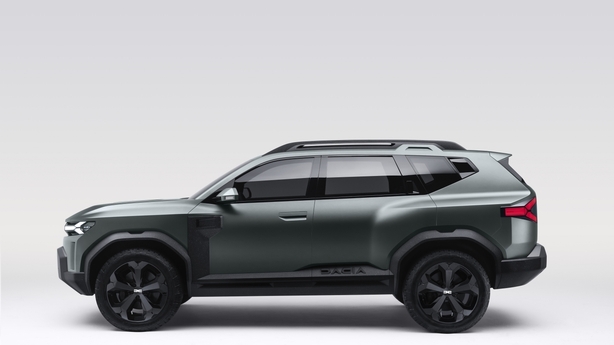 Dacia's "Bigster" concept.
The company is already working on a new compact SUV that will be bigger than the Duster. The "Bigster" will be 4.6 metres long, bringing it a significant step up from the Duster and is being designed to accommodate alternative power systems, such as hybrid. Given parent company, Renault's investment in electric cars, newer Dacia models should be available in electric mode also. The car looks like a budget version of the latest Land Rover Defender.
Renault is currently working on eliminating three models to focus on profitable vehicles. It's part of a plan that will involve job losses and other cost savings.