Citroen has opted for an SUV-styled theme with its new C4 range, which comes in petrol, diesel and electric options.
The hatchback car segment is dominated by some pretty big names with long histories - the VW Golf, the Opel Astra and the Ford Focus, all of which retain their strong origins in the family motoring bracket. In an effort to chip away at these preferred customer choices, Citroen has decided to enter the segment with a car that has more in common with suv's than traditional hatchbacks.
It's new C4 has, for example, more ground clearance than its direct competitors, allowing for easier entry and exit. It's also higher and Citroen says the seating position and interior legroom are the best in its class.
The overall profile is, however, more subtle than striking. There's a sloping roofline and the front is dominated by a grille and v-shaped LED headlights. It does manage to make a bit of a statement though and certainly moves beyond that rather conservative approach of others.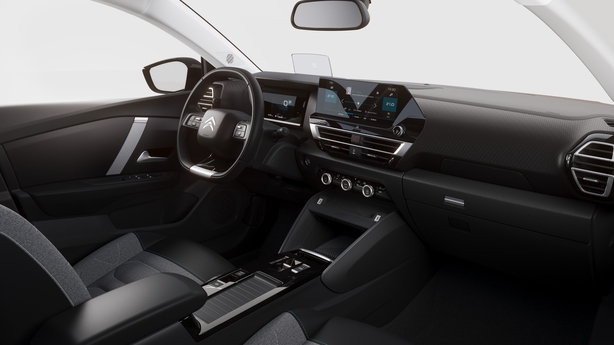 What's likely to appeal more to buyers is its level of standard equipment and its pricing rather than its looks. The revised C4 gets a 10 inch colour touchscreen as standard, with a rather modernist interior. It has about 20 driving aids - such as brake assistance and collision warning. Citroen has also thrown in a dash cam as a standard fitting and a smart-pad support system, which means you can slot in and power a tablet.
The entry-level grade also comes 18" alloys wheels, automatic LED headlights, Apple CarPlay/Android Auto, rear parking sensors, a rear camera, lane keep assist and automatic air conditioning. Given that this entry-level has a starting price of €24,470, it's a very good package -up there with Toyota in terms of standard safety equipment and better than others in terms of price. Obviously, as you move up the price scale you can opt for more equipment.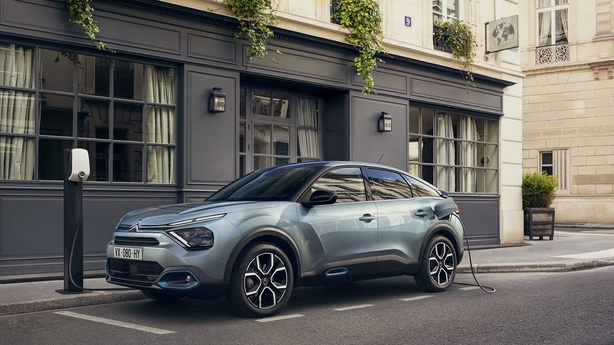 The car comes with a choice of diesel, petrol or electric power sources, with the electric version being Citroen's first all-electric car. It has a claimed range of 350 kilometres but do heed my previous warnings about claimed ranges from all car manufacturers- they seldom are met in everyday driving conditions and certainly not when any motorway driving is concerned.
The electric version starts at €31,730, including grants, which is also very competitive and the diesel starts at €26,790. Buyers can also avail of a free home charging point if they agree to swap to a certain energy supplier for their bundle.
Interestingly, the pretty generous boot space of 380 litres applies to all versions of the car, with the electric version not suffering in this regard. Many other electric cars have their boot space significantly reduced by having to have batteries in the rear.