Opel is going for a sporty and low-slung profile for its sixth generation Astra, which is due in Ireland at the beginning of next year.
Thus far there's no word of a fully-electric version of the new Astra, with Opel saying the line-up for 2022 will feature diesel and petrol engines, alongside a plug-in hybrid version. Preview images suggest a car that has been designed to distinguish it from competitors such as the Ford Focus and VW Golf, by the use of sharp creases and a low-slung look and very short overhangs at the front and rear. These short overhangs allow for a longer wheelbase and a good deal more interior space.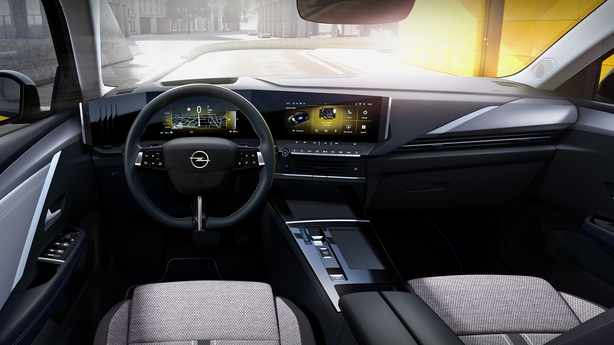 The interior will have two 10" screens for information and entertainment, although Opel has wisely allowed for some functions, such as air conditioning settings, to be adjusted manually. It's the kind of cockpit designed to give a clean and uncluttered experience, as VW has done so well with its interior for the ID4 all-electric. You won't need any charging cables inside the car either, as it will accommodate Apple and Android systems and charge both wirelessly.
There's a multifunction camera in the windscreen and the technology includes four body cameras, five radar sensors and ultrasonic sensors at the front and rear. This enables the system to adapt to speed in curves, make speed recommendations and perform semi-automatic lane changes. hands-off detection, rear cross-traffic alert, long-range blind-spot detection, active lane positioning, adaptive cruise control and Stop & Go starting are all features. They won't all be standard equipment though.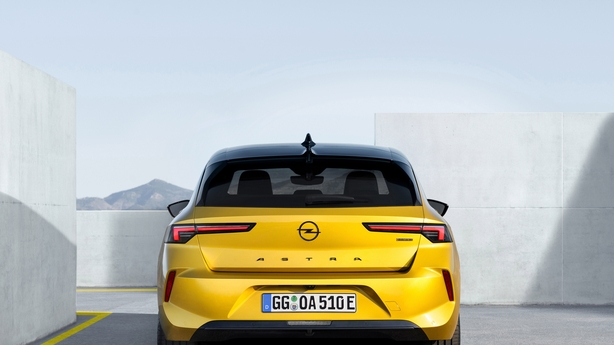 Front and rear lights will be LED units that have been elongated to accentuate the sporty look.
Engines will range in capacity from 110hp to 130hp with the petrol and diesel variants and up to 225hp output with the plug-in hybrid variants. A six-speed gearbox is standard on the petrol and diesel power units, with an eight-speed automatic transmission being optional on the more powerful engines. Although there is no immediate news of an electric version, this car looks to me like it has been designed externally and internally to be easily converted to full-electric. Opel has recently announced its core offerings in Europe will be more and more electrified in the coming years.
The boot capacity is 422 litres. Opel will open its order books in the autumn for deliveries early in 2022.