How do Hyundai's new Tucson hybrid and Seat's traditional diesel stack up when it comes to choosing a new family SUV ?
Anyone buying a new diesel these days is taking a calculated risk, as the push for all-electric vehicles accelerates in Europe and brings uncertainty about possible increased taxation measures to wean drivers away from diesel. The same could be said of self-charging hybrids too, powered as they are by a conventional petrol engine in conjunction with a motor. They are not quite as green as many people think, but sales figures suggest they are perceived as the best medium-term compromise.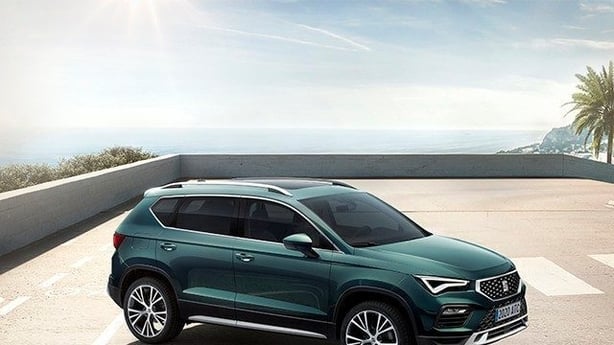 The Seat Ateca.
Into this frame come the new Tucson hybrid SUV from Hyundai and the more traditional diesel offering from Seat - the Ateca.
Whatever the power train argument, the Tucson emerges as a clear winner in several respects. For starters, the five year warranty offered by Hyundai - with unlimited mileage - is far superior to that offered by Seat, which is confined to three years, or 100,00 kilometres. The last major body of research I read on car-buying trends in Ireland suggested that reliability was given greater priority by owners (70%), followed by price (69%), so it's a valid place to start when comparing the two cars.
Hyundai will currently throw in five years free servicing, which is a very impressive saving.
Secondly, Hyundai has built the new Tucson on from the ground up for hybrid and plug-in hybrid modes. And it has gone a lot further than that with its design, both externally and internally. The outer design has features like LED headlights that conceal themselves back into the front grille when not it use and rear LED lights with a light bar crossing the rear door line. There are creases everywhere to accentuate lines and the car is higher, wider and longer than the one it replaces. The Ateca, on the other hand, is an updated version of the previous car. It does have crisp lines and a certain sportiness in its profile but it looks more modernised than re-invented.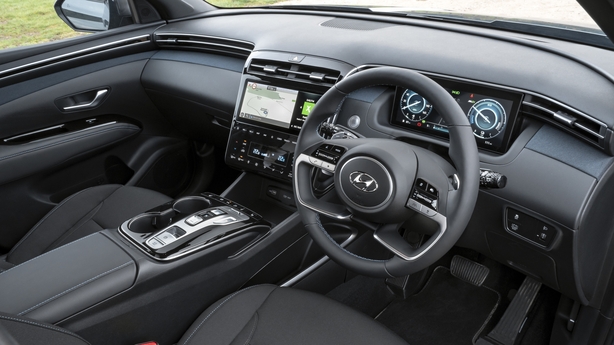 Tuscon interior
Where the Tucson really stands out, however, is with its interior. Big and clear digital screen dominate the cockpit. Blink and you would think you were in a comparable Audi, which has some of the best tech design around. A wide centre console sets off the cockpit and the traditional automatic gear-shift has been replaced with a clever three-button selection system for drive, reverse and park modes. It's the same system as is used for Hyundai's all-electric cars and, while it takes a bit of getting used to, it's pleasantly innovative.
The overall effect is one of quality and it's a big leap for Hyundai. Its use of interior materials is also clever as they feel of much better quality than those of the Seat. As with other new cars, old-fashioned buttons are rapidly giving way to swipe and touch and this is the case with the Hyundai. Seat, on the other hand, still retains buttons for its climate control, which I find much more intuitive when driving. It's interior materials are also less impressive though.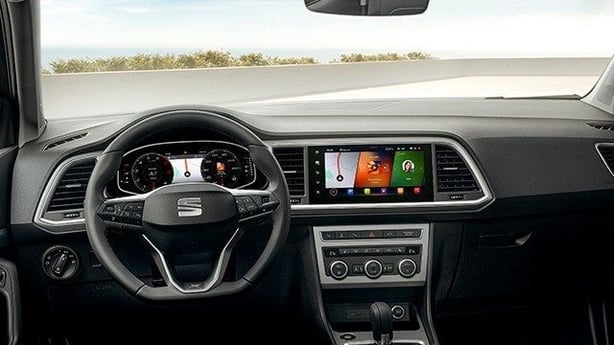 Ateca interior
The display in the Seat is a but funky, with orange and purple icons on a good screen on which Apple and Android interfaces are available, as they are with the Tuscon. The Tuscon's blue back lighting gives a much more satisfying ambience though.
In terms of ride and handling, the Tuscon is a surprise and is far better than the car it replaces. I did'nt think the 19" wheels on the car I drove served any purpose other than that of decoration, as they detracted from the ride. The standard 17" wheels would be an altogether better option. It's here that the Ateca probably has the edge. It's very nicely tuned and gives greater dynamic involvement than the Tucson but that car is not in need of dramatic improvement either. It's a major improvement on the older model and and any current owner will notice the difference straight away.
The Ateca is tuned slightly firmer and is more engaging in terms of driving dynamics. If that's what you're looking for then it might be the wiser choice. However, the Tucson does'nt lag far behind in this regard and will more than suit average driving habits.
The Ateca was also a bit smoother on the uptake at higher speeds. When you really push the Tuscon it can become temporarily thrashy until it evens out with the six-speed automatic gearbox, while the seven-speed DSG automatic gearbox in the Seat is a well tried and proven match for the 2.0 litre diesel engine throughout the Volkswagen group. For higher mileage, this is where the Ateca will have the diesel advantage. It manages about 6.2 litres of diesel per 100 km whereas the Tucson manages just over 7 litres per 100 km. The Tuscon was also impressive in its hybrid mode range, especially around town.
You get a good basic safety package on both cars. Bluetooth, emergency braking, lane assist, Apple and Android interface and cruise control are all standard on both but both cars come in different versions, with different levels of specification.
Prices for the Ateca start at 32,260 Euros and the Tuscon at 36,345 Euros.
In terms of innovation, the Tuscon has it by a country mile.