BMW's design for its new luxury SUV has been a subject of controversy but the company is sticking with its eyebrow-raising grille. It's also launching a new electric i4.
BMW says the iX has the length of an X5, the height of an X6 and the wheel dimensions of an X7. It all adds up to what it now calls a sports activity vehicle, rather than your conventional SUV. It will come to Ireland in November with a hefty starting price of 85,815 Euros for the 326 horse power version which, the company says, will have a range of 414 kilometres but, like all such range claims, we will wait and see what real world conditions yield. A sportier M version comes in with 523 horse power and stiff 112,895 Euros.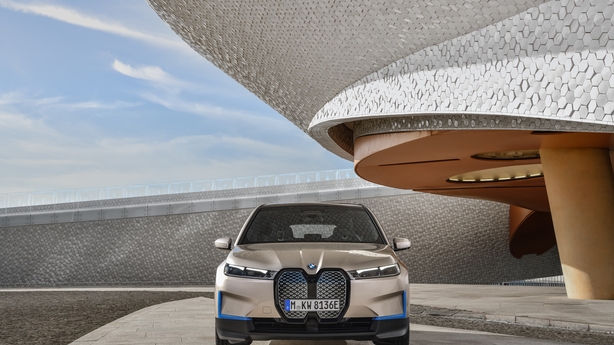 The front end is going to be a source of debate.The traditional grille is gone and is replaced by a more elongated one that houses a camera, radar and other technology related to safety and driver assistance programmes. The LED headlights are also narrower than anything we have seen on a BMW before. The interior makes use of various natural materials - the floor mats are made from re-cycled fishing nets for example.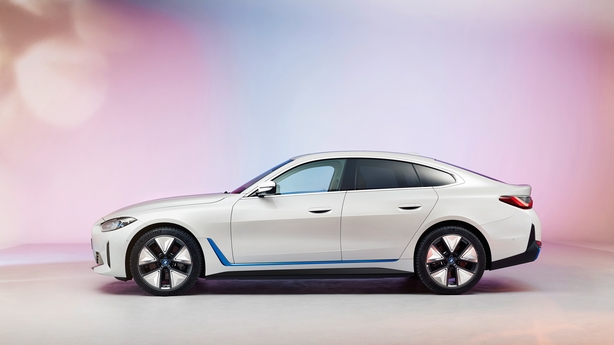 The new i4 is an electrified version of the 4 Series and BMW says it will have a range of up to 590 kilometres. It comes with an entry-level price of 63,565 Euros. It's the first premium car made by BMW and comes with sports seats and a sports steering wheel as standard. Interestingly, the battery cells are "100 per cent green" and avoid the need for damaging mining for materials. The four-door grand coupe design is familiar but the wheelbase seems longer.
It is claimed that a 10 minute boost on a fast charger will give the car a 165 km range, which is both an interesting and a welcome development. An M5 version, with a massive 544 horse power output, will also be available with a price tag of 78,315 Euros.
Lots of new tech and a new operating system are planned for both cars.