It may have its roots in British motoring history but the modern Chinese-owned brand is aimed solidly at people looking for value for money. Those who need more than city range, however, will need to look beyond the price.
There's really not much point in referencing MG's historic motoring achievements when considering the latest iteration of the marque, which bears a valuable and recognisable name - but that's about the extent of the connection these days. Having been used and abused for year as the indigenous British motor industry resorted to producing cars that were woeful and best-forgotten, the MG name itself still retains some value.
Today, MG is part of an enormous Chinese motor company producing huge numbers of cars that have little of the cachet the MG name suggests. The emphasis here is on producing cars for the internal Chinese and international markets that are affordable and able to compete with much bigger and well known names. And the MG name is as good a calling card as any.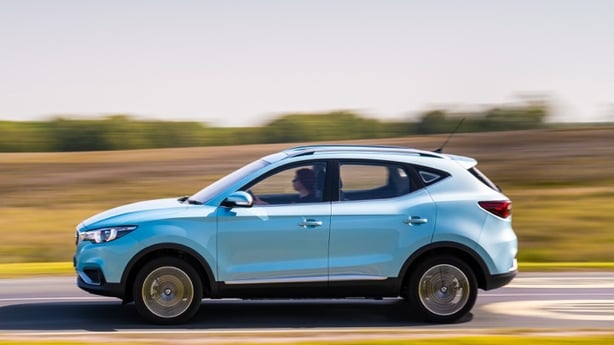 Still new in Ireland, the latest offering from the brand is an all-electric compact SUV - the ZS. The key selling points (often the same when a new brand enters a new market) are price, a competitive guarantee, better equipment levels than competitors and a surprising offering. The car is a pretty generically-styled small SUV that has design hints the could have come from a dozen competitors, such as Kia and Mazda. That said, however, it's quite a pleasing design. It's not a head-turner but neither is it without personality.
With its much trumpeted entry level price of €28,995, I wasn't expecting a huge amount from the ZS. After all, it's less than €2,000 more expensive than a Renault Zoe. Where it immediately impressed, however, was with its spaciousness. For a car with a small footprint, it has a very cleverly designed interior that belies its exterior. It is genuinely comfortable and roomy and the battery is tucked away under the rear seats without overly compromising the rear itself. The boot is good, with a sizeable 470 litre capacity.
Seats on the test car were made of leather-effect material, synthetic in other words.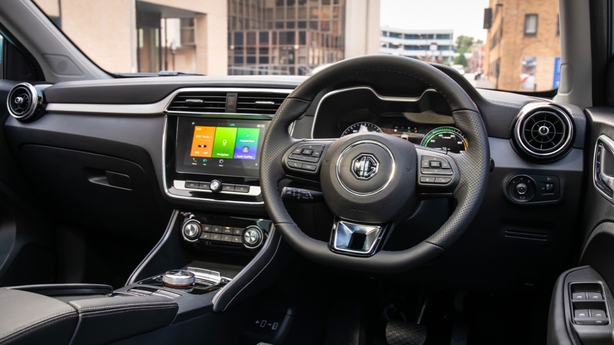 The overall interior finish was better than I expected. Yes, it has its share of plastics - but no more or less than many cars in this class. The instruments are an issue though. The first MG's coming into Ireland have MPH displays instead of KPH and the dial can be very hard to read when you're trying to establish your exact speed. This is to be remedied soon, I understand. The rotary dial to select drive, reverse and parking modes is quite impressive and the 8" screen is clear, but graphics can be slow to load. A satellite navigation system comes as standard and it's perfectly adequate. Apple and Android interfaces are catered for.
Ride and handling are really set up for city driving. On secondary roads, the car can be a bit a thrashy and lacking in bump absorption and the standard steering mode is vague too.
Now to the critical part of any electric car review: its range on one charge. The official estimate for this car is 262 kilometres and as you drive around town the range generally corresponds with the mileage you are driving. Take it on to the motorway - in this case the M50 around Dublin with a maximum speed of 100 KPH - and it's a different story. As you push the car to that speed, your range is dropping by around one third at least. That means the ZS's range will be nearer 160 km. Winter driving conditions, when things like heaters and demisters are in demand, will bring the ZS nearer to this range also. The car has a smaller battery than many electric cars and this means more interior space and less weight but this puts serious restrictions on its practical day to day running.
The clear conclusion is that the ZS is a city car and one that is fine for limited commuting, as long as you have a home charger. Public charging infrastructure is still woefully inadequate in many parts of the country.
Otherwise, it is too limited to be of use to anyone who needs to clock up unpredictable mileage or has need for regular motorway journeys. In those instances, range anxiety is going to be a major issue.
The ZE is well equipped to give it an initial advantage in the market here. You'll get air conditioning, cruise control, emergency braking and lane keep assist, although I found the latter too vague to be of great benefit when straying towards a road line.
It also has a 5 star EuroNCAP crash test result and a seven year or 150,000 kilometres warranty, which puts it up there with Kia, for example. Overall, it's quite a good package but the range is a major challenge.