The latest car in Volkswagen's range of all-electric vehicles - the ID.4 - is the nearest any manufacturer has come to presenting a viable alternative to Tesla and at much lower prices too.
Even a curtailed experience was a worthwhile one. Previously, the Volkswagen ID.3 had me loosened from several prejudices against what is currently available on the electric car market and I concluded that we're really getting there in terms of price and driving range....but that we're not quite there yet. Now came the ID.4, which goes on sale in Ireland next month, with a starting price of 43,426 Euros, including grants, for a brief drive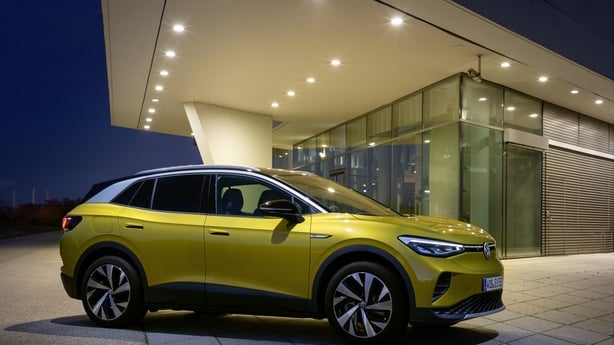 Standing on 20 inch wheels and with an imposing and quite unadorned styling, the car is impressive. Frankly, I don't think any other design team could have made a better job of presenting a car for today's market and putting it up to Tesla in the first meaningful and challenging sense, as the VW team has done. Almost everything you look for in a compact crossover is there and many of the dimensions match the already successful - but now just conventional - Tiguan, a top seller for VW in Ireland.
The car looks and feels solidly put together. The rather muscular lines are suitably restrained to give a well finished profile and a sense of something logically and well thought out. It has a road presence that suggests something more than you usually get with smaller EV's. You also get more personality with the ID and 21 cm ground clearance.
There are two versions coming next month - the ID.4 !st edition and the ID 1st Max. More importantly, there is an entry level version on the way with a price tag of under 36,000 Euros. This will have a 52 KW battery producing 148 horse power but there is no exact arrival date yet and the equipment level has not been decided.
In the meantime, the ID.4 1st comes generously equipped and the Max even more so. The 1st gets Hello ID voice control that will circumvent VW's rather unpredictable sofware selection currently challenging many of us. It also has a 10 inch infotainment screen and satellite navigation as standard. The Max gets additional kit like head up display on the windscreen and 21" wheels. New and updated systems can be added to the car remotely, just the way Tesla does things.
But the other important news relates to range. As a rule of thumb, I immediately discount 25 per cent of the ranges claimed by car manufacturers. In some cases, it needs to be cut by even more. In the case of the ID. 1st the range claimed by VW is up to 550 km's, so I'm going to go with about 400 in real world conditions and that is impressive. The curtailed drive meant I could only drive it for a short distance and for a short time but experience is a useful asset. The Max version should give an extra 100 - up to 500 km's - but you'll have to decide whether the extra 10,000 Euros is worth paying for an extra 100 km range, a heads-up display and 21 inch wheels are worth the money.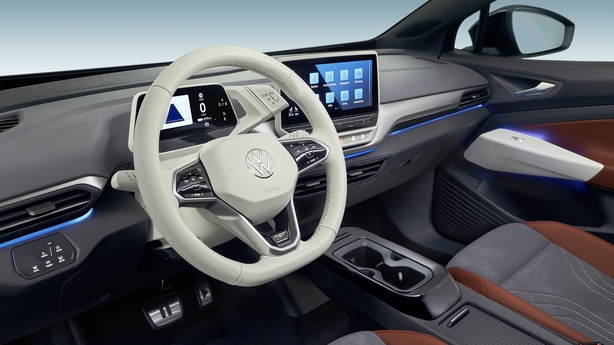 Inside, the cabin is more than a step-up from the ID.3, which is a pretty basic offering. The 4 has Alacantara two-tone upholstery, which really lifts the interior. That coupled with the big screen, minimal controls and pared back ornamentation gives the interior a clean and ultra-modern look. Plus, with no transmission tunnel running down the middle of the interior, you see how much space can be re-claimed. There's more room in the back for three and the boot has the same capacity as a Tiguan Plus. Rear headroom is, however, a bit limited due to the rear-sloping roof line.
The car gets from 0 to 100 KPH is 8.5 seconds. It will take an overnight to fully replenish the battery on a home charger and a fast charger will get you back up to 80 per cent capacity in not much more time than it takes for a long coffee. Finding the convenient fast charger in our laggardly network is the challenge, however.
Even through the drive was brief enough, experience tells me the ID.4 1st is the nearest car to a Tesla that I have driven. I can't wait to get back into it again and see how far that battery can take me on a long, smooth and engaging ride.