It's ironic that a company that made its name for petrol-guzzling performance cars should be re-incarnated as a producer of affordable all-electric cars but that is what MG - now owned by a Chinese company - wants to be.
It was back in post World War 1 England that the MG name first emerged, when a man named Cecil Kimber decided to modify Morris cars for performance purposes. Morris Garages in Oxford would soon start injecting some fun into motoring and it went on to become an iconic name. In the 1930's the first MG Midget 120 became the first car with a 750 horse power engine - albeit a modified car - to exceed 100 miles per hour.
Small wonder the MG two-seater seemed to become synonymous with World War 2 pilots in Britain looking to replicate the excitement of the air when back down to earth on English country roads, silk scarves flying in the wind and on their way to pubs and dates.
Fast forward to the brand's decline when it became subsumed into the mire that was British car production in the 1970's and later. The MG name was finally sold off to a Chinese company about 15 years ago.
Shanghai Automobile Industry Corporation now owns the marque and has begun selling in Europe. Its pace of development of cars is expected to be unlike anything MG has ever seen in its history.

The new cars have arrived in Ireland, with six dealers appointed in Dublin, Cork, Limerick, Galway and Tipperary. MG today does make conventional cars but the focus here is on selling affordable electric and plug-in cars. Covid restrictions have so far prevented any formal media viewing or driving, so we'll have to make do for the moment with details about the two models that are gearing up for January sales in 2021.
The ZS EV is the fully-electric version with a claimed 263 kilometre range on a full charge. For comparison, a Zoe should get you about 290 kilometres, a Nissan Leaf about 320 and a Kia Niro almost 400, depending on driving style and conditions.
It's a crossover but will be squaring up to the likes of the Renault Zoe and the electric Peugeot 208, both of which cost around 27,000 Euros. The MG comes in at 28,996 Euros. However, MG has worked an old car industry trick by offering generous levels of equipment as standard from the beginning. The Japanese manufacturers did it yonks ago and so too did the Korean companies.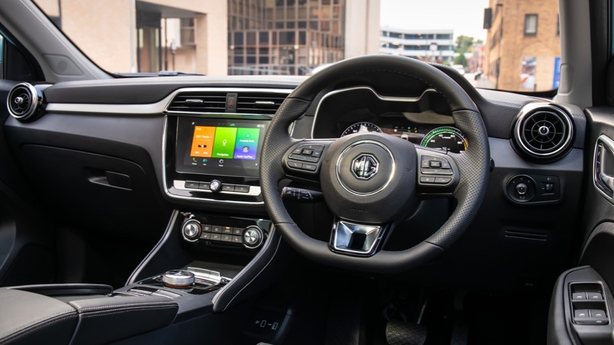 The basic package of equipment for the ZS includes satellite navigation, an 8" infotainment screen, active cruise control, active emergency braking and comes with a seven year, or 120,000 kilometre, warranty that covers both car and battery. A more expensive version has heated front seats and "leather style upholstery", which is a bit of an eyebrow raiser but we'll wait and see.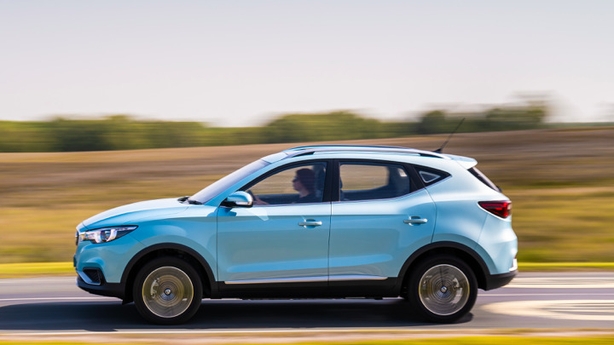 We have yet to see how that claimed range proves itself and with the current state of charging infrastructure it might be wiser to consider this as mainly a city car, benefiting from home charging, for the moment. MG has an introductory offer of a free home charger for early customers, a clever come get me strategy.
Charging at home is said to take 6 and a half hours and MG says it will take a charge up to 80 per cent capacity at a fast charger in 40 minutes. The car will get from 0 to 100 kph is about 8.5 seconds, with 143 horse power output. While the battery is, as expected, heavy enough it is small at the same time, thus accounting for the lower range.
The car has 17" wheels and the boot is an impressive 448 litres, which is as good as most crossovers.
The car accommodates both ApplePlay and Android Auto.
There is also a plug-in hybrid version of the car on sale at 33,150 Euros, with a claimed EV range of 52 kilometres. It is backed up by a 1.5 litre engine and uses a 90 Kw battery.
We'll be back with more when we can get a little more acquainted with the modern incarnation of a very old car brand.