Despite an early start with the IX3, BMW has been slow enough to introduce its second all-electric car. It has now ramped up to produce one comparable to the X5.
It may still be in the development stages but BMW does'nt release comprehensive details of a car it does'nt intend to build. In fact, the iX is due to go into production next year and the end of 2021 should see it in Ireland. So far, there are some big claims for it. Subject to the latest emissions and consumption tests, the X5-sized SUV is said by BMW to be capable of a range of 600 kilometres on one charge and to be able to be charged from 10% to 80 % capacity in about 40 minutes.
It's going to be about the same size as the current X5. BMW has adopted a position that will see its vehicles produced in parallel and with combined energy systems for as long as they are sought by the market. In other words there will be an X5 with a conventional petrol or diesel engine for as long there is a demand.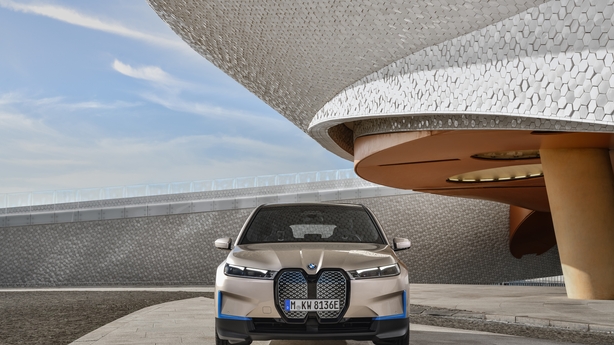 The signature big front grille used in other recent models by BMW will also feature. It has been a source of division among BMW loyalists, with some seeing as simply too brash a statement. In the case of this car it will be used to house the cameras, radars and sensors that enable safety systems to kick in.
The two motors on the iX will produce 500 horse power and 0 to 100 KPH time of less than five seconds. However, a big battery is needed to produce all that power and the car is expected to be a heavy one, despite its acceleration capacity.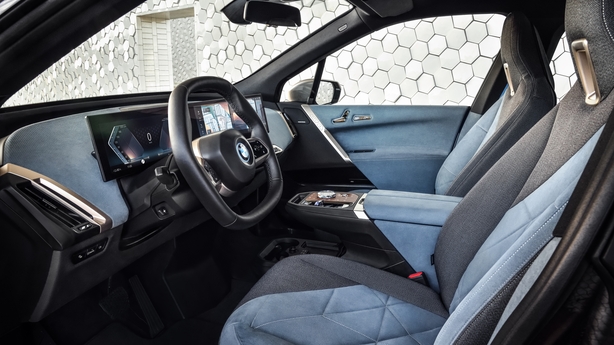 BMW says it has gone for the widespread use of recycled materials for the interior and upholstery and says the "displays and controls are all stripped down to the essentials,further reinforcing the impression of an uncluttered cabin.
Technology inside is said to become visible when it is needed, something for which the term "shy tech" has been coined. Speakers are integrated out of sight, as are air vents and the head-up display's projector is recessed into the instrument panel .The steering wheel is now hexagonally-shaped and there's a rocker switch for gear selection.
You can also expect very big wheels and a very big price tag too !