Skoda's latest crossover - the Enyaq - will be all-electric and should be on sale here by summer.
Despite having a claimed range of 390 kilometres and being cheaper, Skoda is not expecting that its entry level version of the Enyaq will be its best-seller in Ireland. Instead, it expects that a version costing almost €8,000 more will be more attractive to Irish buyers, presumably because the range is said to be extended to just over 500 kilometres. It also appears we Irish are falling out of love with base model cars and choosing better equipped ones.
The Enyaq is due on sale here next summer. It shares a platform with the Volkswagen ID 4, which has not been launched yet. It will come with two batteries and power outputs - the entry level Enyaq 60 has a 58 Kw battery pack and produces 177 horse power, while the Enyaq 80 produces 210 horse power from a 77 Kw pack. The smaller battery gives a 0 to 100 KPH time of 8.6 seconds and the bigger battery delivers that in just 6.2 seconds.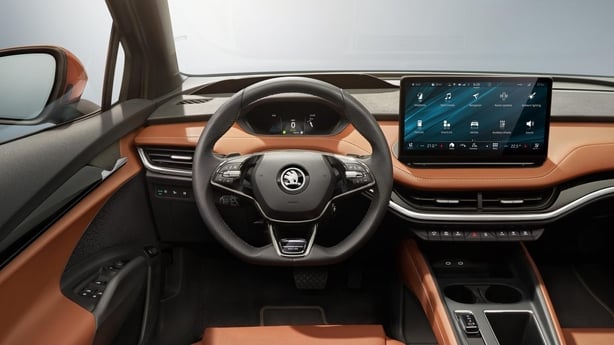 The car has a digital cockpit display and a 13" screen. It will also have 19" wheels and LED headlights.
It's just slightly shorter than the Kodiaq SUV in length.
Prices are expected to be around €46,570 - before grants - for the 60 version and €54,360 for the 80 version, again before grants. As the car is some way from arriving, Skoda is not committing to exact prices until it sees just what grants are available for electric cars next year. If they remain as they are, you could lop off €7,800 from these estimated prices.