New research from Volvo suggests children up to the age of four should sit in rearward facing car seats. There is also some useful advice to avoid car sickness.
Since it invented the three-point car seat belt over 60 years ago, Volvo has been continually studying car safety measures and has now come up with a set of safety guidelines for parents when taking their children on car journeys.
The research has involved tests carried out after real-live events (in cases of serious accidents in Sweden Volvo engineers often attend the scene with the police to gather information) and also looked at the efficacy of the company's own child seats.
The data shows rear facing baby seats are the safest position for children. Volvo says it strongly recommends that children travel rearward facing as long as possible, and up to 3-4 years old at the very minimum. It also suggests that all children up to 140 cm in height, always use a child restraint when sitting in the front or the rear seat of the car.
"Children up to four need to travel rear-ward-facing in cars, simply because their neck is too weak to support the head. So you need to protect them", says Dr Lotta Jackobsson, Senior Technical Specialist in Injury Prevention at Volvo Cars and technical specialist at Volvo Cars Safety Centre.
"We think about how kids are designed, and not just cars. Childrens' necks are a weak point because they are still developing, and they are not up to taking an impact like an adult neck. A child's head is heavy in comparison to the rest of its body, as the vertebrae, the bones of the neck, are still growing.
She says many parents are unsure when to change their child from a baby car seat into a rear-facing child safety seat and then into a booster seat. The researchers have put together some recommendations to help parents transition their children as they grow.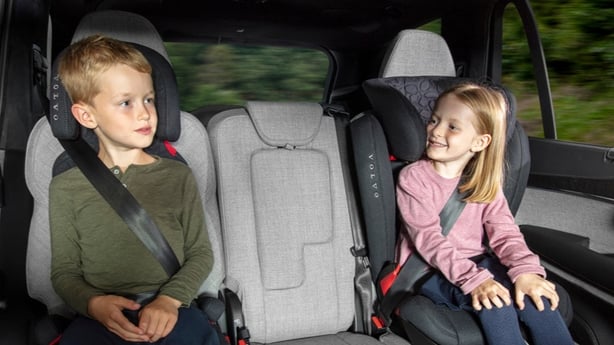 They conclude that baby car seats should be used between the ages of 0–9 months old or until the child can sit steadily, and with weights up to 13kg
Rear-facing child safety seat should be used from around 7 months to 4 years old, or until the child's head reaches the edge of the child safety seat, and with weights from 9kg to 25kg.
Booster seat or booster cushions should be used between 4 to 10–12 years old, or until the child is taller than 135cm, and weighs between 15kg to 36kg.
The report points out that child restraints are highly effective in reducing injury and death to child occupants and the use of these child restraints can lead to at least a 60% reduction in deaths (WHO).
It also has five top safety tips for parents:
1. Always secure your children in child safety restraints
2. Use child seats that are appropriate for your children's size and age
3. Children are safer when seated in the rear seats

4. Seat your children rear-facing for as long as possible
5. Buckle up! Children who have outgrown booster seats must use the car's safety belts – utilise the height adjustment options in your car to ensure it is fitted correctly for your child
The researchers have also come up with some useful advice on avoiding childrens' car sickness, pointing out that motion sickness was first noted in300 A.D., when 'cart-sickness' was observed in ancient China.
Top tips for reducing car sickness:
1: Design the route to avoid bumpy rides.
2: Take breaks on long journeys.
3: Put down the book, iPad and colouring books.
4: Stick to light snacks and avoid heavy meals
5: Use natural remedies such as ginger and peppermint
6: Use over-the-counter medicine
7: Wind down a window
8: Offer distractions such as music and road trip games