Perhaps the most notable thing about Mazda's first all-electric car is the fact that it has a limited driving range - something that makes it greener than others, the company argues.
Whatever about the lethargy of global companies like Ford when it comes to embracing electric motoring, Mazda and Honda stand out among the Japanese and Korean manufacturers as being more than a little behind the times. However, these relatively small companies don't have the resources of the others when it comes to rapid development and turnaround.
It's only now that Mazda and Honda are introducing their first big volume electric cars. In the case of Mazda, it's the MX 30 smaller crossover type car that if first off the blocks. It's an interesting looking car but Covid has denied us the opportunity of seeing it in the flesh.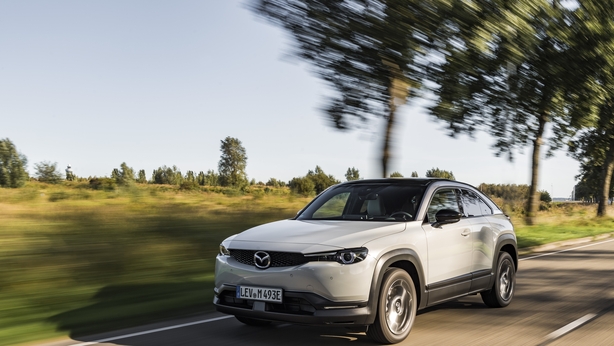 There are two things about the MX 30 that are very curious. The first is the fact that Mazda has decided to use a smaller 35.3 kWh battery that will only give a predicted range of around 200 kilometres - this at a time when other manufacturers are already heading to about 500 km. However, Mazda says that by using a smaller battery it has made the battery manufacturing process greener and it does'nt believe many people, especially in Europe, actually need a range greater than 200 km. Which leads on the other interesting thing about this car. It is expected to sell for about €33,000 after grants in Ireland, which seems like pretty good value for a premium looking SUV crossover car. The combination of these two things may well make this car of wider appeal than one might have expected.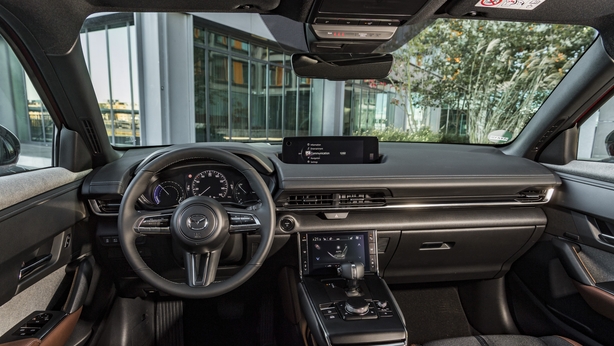 The interior features a "floating" centre console incorporating Mazda's first touch-screen air-conditioning control panel, and unique materials designed to minimize environmental impact - door trim using fibres made from recycled plastic bottles and cork harvested from the bark of trees, without felling.
Mazda says the car has a generous allocation of safety features and ,despite having doors with no centre pillar, its bodyshell combines high strength - including a carefully designed structure to protect the high-voltage battery - with efficient energy absorption for excellent collision safety performance.
The MX 30 should be in Ireland later this year for January 2021.