Like almost every other car manufacturer, Land Rover is anxious to make its credentials greener with a new plug-in hybrid version of the Defender.
The plug-in system has been introduced to match a 2.0 litre petrol engine and Land Rover says it will allow for up to 43 kilometres, including off-road driving with the all-wheel drive system. Initially available on the longer wheelbase 110 version of the Defender, the system runs on a 105 kWh motor to allow the vehicle to run on electric-only before falling back on the petrol engine when the range has been exceeded.
Land Rover has also introduced a mild hybrid version on its diesel range with 2.0 litre and 2.0 litre diesel capacities but this system simply uses innovations like energy recovery when braking to provide an element of electric power and is limited.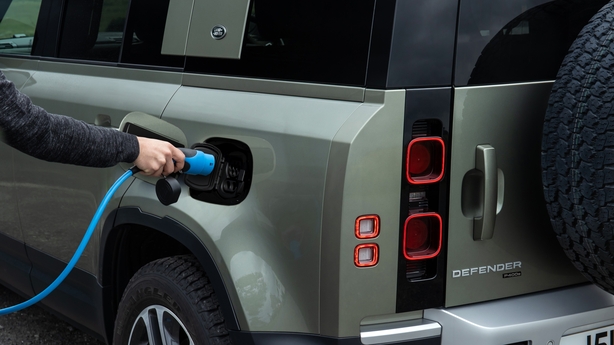 The plug-in hybrid on the 110 version has an option of five or six seats, comes with 20 inch wheels and has a towing capacity of up to 3,500 kilos. No prices have yet been announced for Ireland.
The hybrid will be followed by 90 and 110 versions of the Defender Hard Top, Land Rover's answer for those who need a workhorse rather than a comfortable conveyance. Again with a towing capacity of 3,500 KG's, the Hard Top has a ground clearance of 291 mm and stowage space of 2000 litres in the 110 and 1355 litres in the 90. It's also fitted with hooks, lashing points and lockable underfloor storage. Again, there's no news on Irish prices yet.