For a company of its size, Ford has been relatively slow to move over to electric and hybrid motoring but its new Kuga indicates the path ahead for new developments.
With its latest version of the compact Kuga SUV, Ford has initially introduced a plug-in version with a full hybrid due by the end of this year.
The latest figures indicate that more people are opting for plug-ins (cars which drive a limited range on electric only and can then fall back on a petrol engine) than for electric-only cars. This is due to two factors - range anxiety for fully electric and the price of electric cars themselves.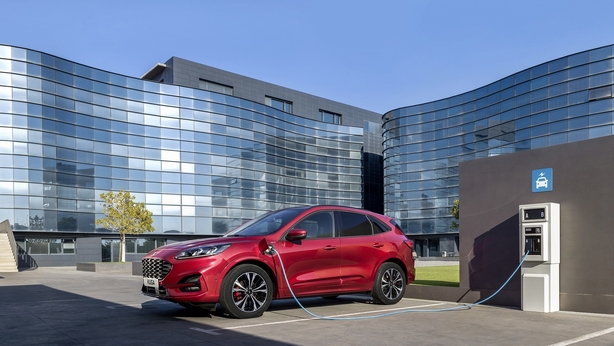 Ford claims the Kuga has a 56 kilometre range on electric only. It can then fall back on its petrol engine. In the case of the Kuga this is a 2.5 petrol engine, a fact that prompts one to ask why Ford and indeed other manufacturers are putting such big engines in their PHEV's ? It may be to do with global market demands and keeping costs low. The bottom line, however, is that these bigger engines are using more fuel, even if emissions are better than they used to be.
Ford says the new Kuga will offer 28 per cent more fuel efficiency but we will have to wait and see what exactly is returned in average conditions. The new car is 80 kg lighter than the one it replaces, has a 20 mm longer wheelbase and is 44 mm wider. It has a lower roofline and a longer bonnet, giving it a better overall look than the slightly stubby previous design.
The car comes with a choice of two engines - the 2.5 petrol PHEV and the 1.5 diesel EcoBlue. The former starts at €33,357 and the latter at €35,432. Standard equipment includes LED running lights and 17" wheels. The car also has stop and go engine management in traffic, adaptive cruise control with lane monitoring and a head up display over the dashboard. There's an active parking system available as an option and there are also ST sport and highly-equipped Vignale versions.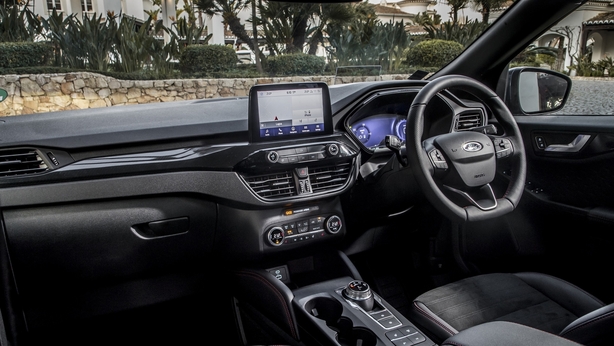 The standard infotainment screen is a smallish enough 8", while the dashboard is designed as a 12.3" instrument cluster. The rear seat bench can be moved by 150 mm in either direction, forwards or back to extend space and the boot is an impressive. It's a useful and practical innovation that should be of particular appeal to family drivers.
Unlike other similar-sized SUV's the Kuga has an impressive towing capacity of up to 1800 KG's and there is also an option to have an electrically retractable tow bar.
The Ford Pass system will tell the driver useful information, such as the nearest charging point and will allow the driver to choose the best tariff times for charging.