Skoda's new Enyaq SUV, which goes on sale here next Spring, is intended to take on its SUV competitors with attractive pricing and claimed driving ranges long enough to assure doubters.
Given that price and driving range are two of the major challenges buyers consider when thinking of moving over to electric cars, Skoda has concentrated on both in trying to appeal to existing SUV drivers and those thinking of buying one as long as their key requirements are met.
The Enyaq (the name, like much of Skoda's nomenclature, is said to be derived from a minority language - in this case Irish - and comes from Enya, meaning source of life but may be more of a commercial play on the singer's name) will arrive in Ireland in April next. Prices have not yet been announced but it's expected that the second level version will cost less than 40,000, after Government and SEAI grants. It's not exactly cheap but comparable electric SUV's may have a job keeping up with it.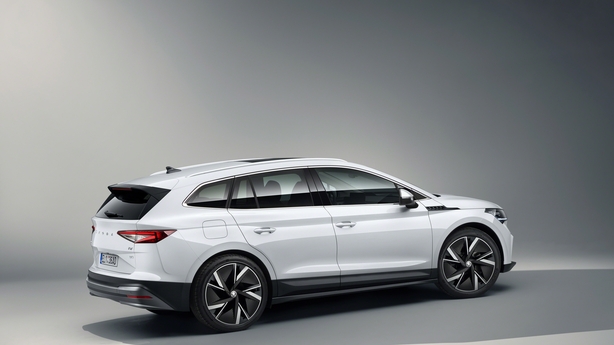 The Enyaq will be available in three different power versions and with or without four wheel drive. The entry level is the 50, which has a 55 kWh electric motor (mounted at the rear) which, Skoda says, will deliver a range of 340 kilometres. The 60 version (62 kWh) should deliver 390 kilometres and the top of the range 80 (yes, you have it) has an ambitious Skoda target of 500 kilometres and should go from 0 to 100 KPH in about 6.2 seconds - electric cars have much faster acceleration times than their petrol or diesel counterparts.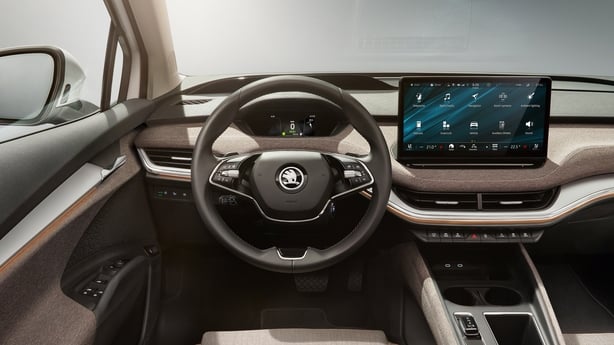 The basic car gets 18 inch wheels, active cruise control, a 10" infotainment screen and LED headlights. The 60 version gets the 13" screen ( a feature no doubt inspired by Volvo's one which dominates the cabin) and 19" wheels and rear parking sensors. The top of the range 80 will have things such as organically tanned leather - a bit like Birkenstock sandals, I think.
The boot, as one would expect from Skoda is generously big at 585 litres and the rear-mounted battery does not appear to limit space in the rear.
Charging can be done with a home wall box (11KW) in between six and eight hours and Skoda says using a DC fast charger will allow the car to be charged from 10% to 80% in 40 minutes. Let's hope the development of our currently pretty woeful charging network keeps pace to allow this to happen without lengthy waiting periods at charging stations.