Some 70 years after it was first launched, Land Rover's new Defender aims to combine the best qualities of the original with a modern and polished profile. So, does it succeed ?
I'm old enough to remember jaunts in a Land Rover Discovery when two hands were needed to change gears and the suspension system was a combination of the agricultural and the industrial. Even by the relatively rudimentary standards of cars at the time, the Defender was basic, very basic, but it did have lots of character and impressive off-road and towing abilities. It has always had a loyal fan base - many were able to do running repairs and servicing themselves. And, until the arrival of Japanese competitors like the Toyota Land Cruiser, the Defender held a monopoly position for those who needed its capabilities and durability.
Driving the Defender in North Cork recently was like entering enemy territory because this is a part of the country where the Land Cruiser seems to reign supreme. Its reputation for durability, strength and reliability has ensured its place as the farmers favourite it would seem, judging by its ubiquitous presence on the roads that criss-cross some of the country's richest farmland.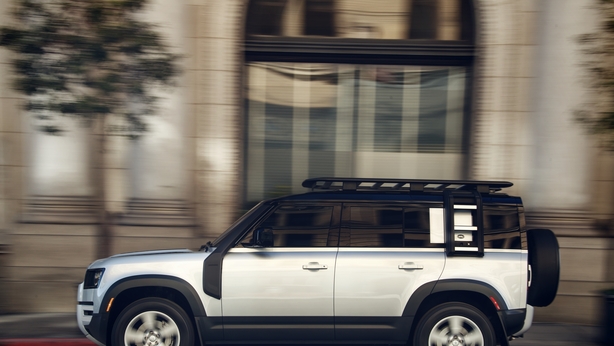 You don't see too many Land Rovers. That's probably why the farmers I met were more than curious about the new Defender. Those I did meet liked the Defender, a lot. Like me, they were taken by the design that manages to combine a lot of the road presence of the original with a sculpted, boxy new interpretation.
However, barring a Lotto win they would stick with their Land Cruisers and Isuzu's, they said. Much as the Defender appealed, the proven and dependable were more to their liking.
Then I remembered reading that two thirds of Land Rover sales are registered in Dublin. Despite its abilities and the intentions behind its design and engineering, Land Rover would appear to be an urban brand with an expensive and sophisticated appeal.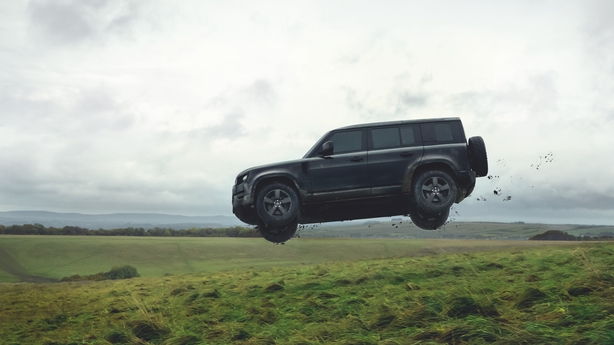 The Defender is intended to be a workhorse and what I've seen of its abilities off-road and its towing capacity of 3.5 tonnes suggest they are among its best qualities. Certainly, the limited off-roading I did presented no challenge whatsoever to its full-time four wheel drive system, despite the fact that it was fitted with an automatic gearbox. But, based on the sales statistics, it won't really be going anywhere near the terrain it was built for, unless by appointment with an off-road driving school and only then for novelty purposes.
This is the irony of the new Defender's position in the market. The challenge facing it is being accepted by the wider community for whom four wheel drive and towing are daily requirements. For them dependability is everything and Land Rover has not exactly shone in this regard up to now. Will this vehicle, with the time and effort that went into developing it, restore a reputation that needs restoring ?
Despite its bulk and weight, the Defender drives impressively. The 2.0 litre diesel engine has an output of either 197 or 237 horse power, depending on your requirements. The engine will take the vehicle from 0 to 100 KPH in just under nine seconds. Over that speed and when overtaking, its performance becomes more laboured - weight is an issue. It even drives well on the motorway with much less wind noise evident than the boxy shape and the Defender's height would suggest might be the case. And even the big wheels don't seem to add to sharpness of ride. Air suspension - the kind of thing you get with Range Rovers - makes a big difference.
While is given to some wallowing on twisty roads, the progressive steering is a big help and allows for a car-like quality and response. It's actually a much better drive than I expected it would be and it certainly pips the Land Cruiser in this regard.
Be prepared, however, for a massive turning circle that makes parking and manoeuvring in limited spaces a tricky exercise. The boot door opens sideways, not upwards, which can also be a challenge in tight spaces. And the weight of the spare wheel (not something other than the superhuman will be trying to change on their own) also means it can be hard to keep the boot door open when you need it. I you opt for the cross-bar roof rack, you will also need to check the height of underground car park beams. Trust me on this one. I nearly took the rack off.
There is also a storage box fitted to the side as an option. You'll want peope to think this is where you keep things like your emergency axe and trench shovel, of course. This, oddly, is at eye level and limits the view of the road behind you to an unnerving degree.
All four wheel drives are heavy on fuel and the Defender is no exception. The best I could coax from it was 10.1 litres of diesel per 100 kilometres, or 27 miles to the gallon in old money. That level of consumption and a Band F tax designation of 1,000 Euros per year make for big running costs, so be warned.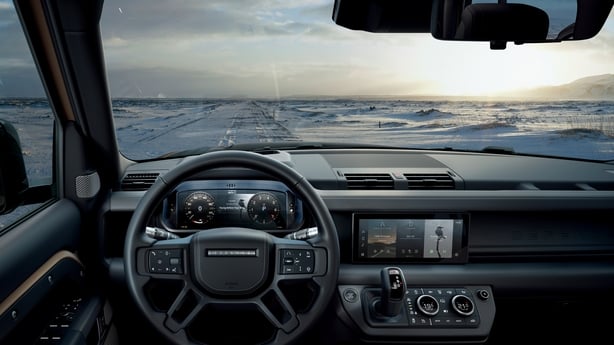 The interior is where the Defender comes into its own. It is extremely spacious, has a commanding position above the road and is well thought out and durable. I suspect as many psychologists were involved in its design as were engineers, because it promises to deliver everything you expect from a big, powerful off-roader. It has a combination of ruggedness, practicality, roominess (shoulder room, for example, is 61 inches) and stylish and functional technology. Switchgear and controls are functional and practical. There are even rivet-like finishes around the cockpit to add to that rugged appeal. The interior is best in class.
The Defender pricing starts at €59,410 for the 90 short wheel base version and €68,160 for the longer 110 wheelbase version I drove. That's before you add on extras, of which there are many to choose from.
This car is a bit of a marvel and a huge leap forward in engineering and design. What it needs to accompany it is a huge leap forward in terms of Land Rover reliability. Those who put up the money for it won't be forgiving if it doesn't.
If it does, perhaps the farmers will be coming back to it.