Traditional diesel and petrol choices remain the main options for the refreshed version of the executive E-Class but two plug-in hybrids also enter the frame.
The E-Class is less than five years old at this stage, so no major styling changes were expected for the refreshed version and this is indeed the case. Lights, bumpers and the grille have been revised and there are some interesting innovations, such as a new set of touch controls on the steering wheel that replace some of the functionality of the rotary dial. Front and rear lights are now LED's.
Multimedia and voice-activated assistance systems have 10.25" touch screen functions. Two multimedia screens sit side by side to give a widescreen cockpit effect.
There is also a nine-speed automatic transmission.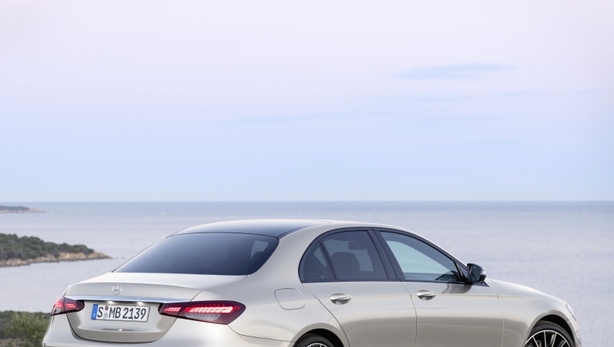 The basic diesel is the 1600 cc unit producing 160 horse power. There are also 194 HP and 330 HP versions.
The entry level petrol is the E200, with a 1991 cc engine and 197 horse power. Bigger capacities are also featured right up to AMG sports specifications.
Prices start from €52,910 for the E200 petrol and €53,105 for the E200 diesel. Plug-in hybrid versions start at €65,615 for the E300 petrol and €67,740 for the E300 diesel. You can knock €7,500 off both prices for the combined green grants. The range for purely electric driving is expected to be about 50 kilometres.
Mercedes in Ireland says prices for the new model are only one per cent higher than the model it replaces.
Coupe and cabriolet versions of the new car will follow.