It's a good deal more commercial looking than the vehicle it replaces, with Opel aiming for more business opportunities for its new Zafira.
The Zafira is to have a full-electric version with seating capacity for up to nine people in its largest format. The Zafira e-Life will have a choice of two batteries - a 75kWh battery that the company says is capable of a range of up to 330kms and a 50kWh battery with claimed range of up to 230km.
It is due to go on sale in Ireland late this year but specifications and prices have yet to be decided.
Three formats are expected to be available - with five, seven and nine seats, with the latter clearly being aimed at a more commercial buyer.
The electric motor produces 136 horse power and has a controlled speed of 136 KPH. Energy produced by braking and deceleration is also recovered and used to drive the car.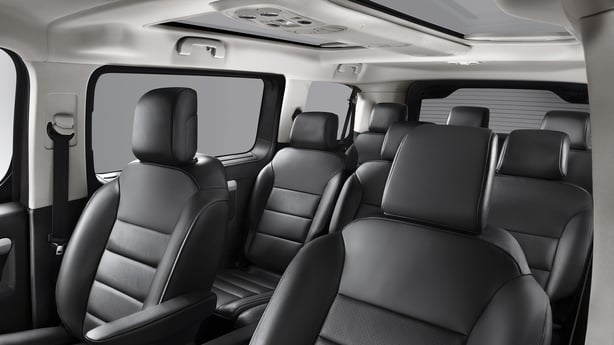 The battery pack is stored under the load compartment to maximise internal space in the car and to allow a low centre of gravity.
An 80% charge is said to be achievable, using a 100kW DC charger, in 30 minutes for the 50kWh battery and in 45 minutes for the 75kWh battery. Smartphones can be used to check the battery's charging level, or programme air conditioning and charging times.
The shorter version has a relatively tight turning circle roof height is limited 1.9m to allow multi-story car park access. Sliding doors open electrically with a movement of the foot. Removable rear seats allow for a huge rear capacity of up to 4,500 litres.
Passengers can also sit facing each other.
Depending on equipment levels, features include a 180-degree rear view camera, an unusual colour head-up display shows speed, distance to the preceding vehicle and navigation. A camera and radar monitor the area in front of the vehicle. The system recognises pedestrians crossing the road and can initiate an emergency braking manoeuvre at speeds up to 30km/h.
There is also semi-adaptive cruise control that adjusts the speed to that of the vehicle in front, automatically decelerates and reduces to 20km/h if necessary. Headlights adjust automatically to high or low beam above 25 km/h.
A large touchscreen incorporates Apple and Android devices.