The new version of the Seat Leon shares a great deal of DNA with the new VW Golf, but having a lower price is the only way it has of competing with the Volkswagen dominance in the family hatchback segment.
On the surface, the Golf and Seat's new version of the Leon look quite different, the Seat adapting a somewhat more sporty profile because that is how the brand is marketed within the Volkswagen Group. The crown jewels of design that constitute the Golf's universally popular appeal are strictly off-limits to the other brands in the group, such as Skoda and Seat, who are left to carve out a different identity that doesn't threaten VW's enduring successes.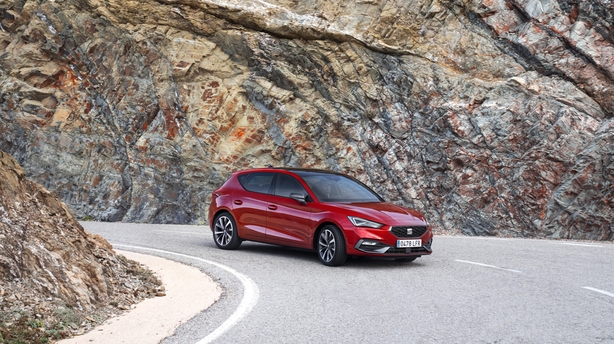 Beneath the surface, there isn't a great deal to distinguish the Golf and the Leon. Both are built on exactly the same platform and the engines and much of their technology are exactly the same too. Both the latest Golf and the new Leon entry level models have exactly the same engine - a 1.0 litre TSi petrol engine producing 110 horse power. Therein lies the beauty of the arrangement for the VW Group - same engines, same technology, same platforms and therefore all cost efficient. Different body shapes though.
Many buyers will be aware of this and the selling strategy for Seat therefore has to be based on price.
The result is that the Leon comes in at €23,190 for the entry-level 1.0 litre petrol three-cylinder version. The equivalent Golf comes in at €27,750. The equipment levels are broadly similar, with adaptive cruise control as standard on both. The Golf, however, has the edge when it comes to styling and road presence.
The next level Leon comes in at €28,390. It has a 1.5 TSi petrol engine producing 150 horse power. A 2.0 litre diesel engine with 115 horse power costs €26,040. There are other engine capacity options.
Standard equipment on the Leon includes that adaptive cruise control, auto-dimming LED front headlights, keyless entry, electrically folding side mirrors and 16 inch alloy wheels.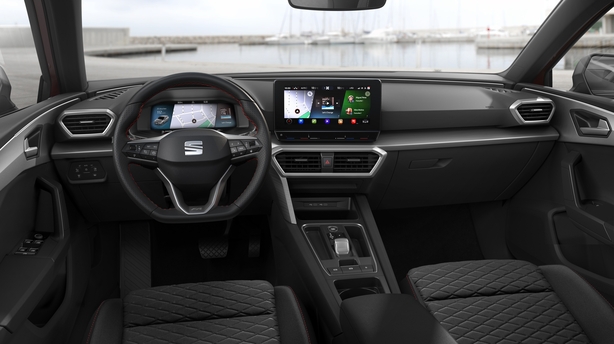 You pay more for the 10 inch infotainment screen.
As you move up the range and pay more, you get more in terms of technology and safety equipment levels. The basic car, for example, has a 8 inch infotainment screen, while others feature a 10 inch screen.
The interior of the Golf looks like it has the edge on the Leon also. Seat interiors tend to be a little Spartan compared to the warmth and more advanced looking interior of the Golf, especially with the new digital dashboard.
Connectivity in the Leon is facilitated by both Android and AppleCarPlay.
Seat will also be introducing a mild-hybrid and a plug-in hybrid version of the Leon. The company claims the plug-in will have an electric range of 60 kilometres.