The first car being produced jointly by Toyota and Suzuki – a hybrid plug-in version of Toyota's Rav 4 – is expected to go on sale here next year.
Whether we'll be getting a Toyota at Suzuki prices, we don't really know yet but the Suzuki Across plug-in hybrid SUV will be pretty much the same as the Rav 4 in almost every respect. Suzuki will have the first version of the car, which has a claimed range on electric only of 75 kilometres, which is quite a way above the range claimed by several other manufacturers for their electric-only range. If it achieves that figure it will mean the Across will be very comfortably accommodating most commuting distances without having to rely on the petrol engine, which is a 2.5 litre unit.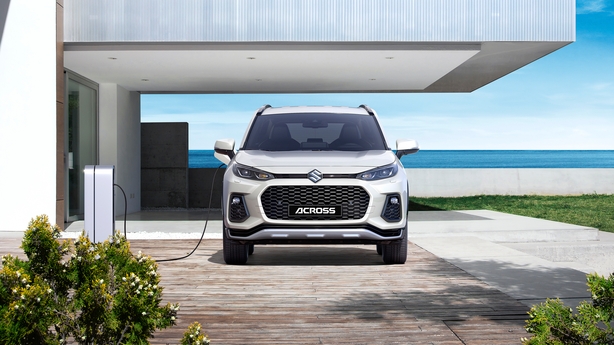 Suzuki says the Across will be capable of a 75 kilometre range on battery power only.
The Across has an electronic four wheel drive system. Other features include LED headlamps with auto-beam adjustment, 19-inch alloy wheels and a 9-inch touchscreen display that works with Apple CarPlay for iPhone, Android Auto and MirrorLink for compatible smartphones.
The boot has a 490 litre with the rear seats up, which increases with the seats folded.
Suzuki says the car has CO₂ emissions of just 22g/km. In EV Mode the vehicle is driven entirely by the power of the electric motor even under full acceleration, although this will likely use the charge much more quickly.
Neither prices nor equipment levels for Ireland have been announced yet but the car's key safety features include a pre-collision system, lane assist and dynamic radar cruise control. The pre-collision system (currently fitted on all Toyota models) helps prevent collisions with other vehicles, pedestrians and cyclists by applying braking assist and automatic braking if needed
Radar cruise control works at all speeds and automatically maintains ample distance with the vehicle ahead, including stopping the vehicle when the preceding vehicle comes to a halt and following it when it restarts.
Toyota has yet to launch its version of the car.