The BMW 5 Series has been given a facelift and the new saloon and estate version will now feature mild-hybrid technology across the engine range.
The styling changes are pretty minor, so the 5 Series continues to age gracefully. The new version gets new bumpers, slimmer headlights, LED lights to the rear and a bigger grille that has now become a signature of BMW styling in the last couple of years. The big difference between this version and the one it replaces is that all four and six cylinder models will have a mild-hybrid function.
This is a system that uses re-generated braking energy to supplement drive the car's electronics and add to the engine's performance, although it is limited to a fairly minuscule 11 horse power. It's not a feature you will even notice very much and, interestingly, BMW has announced neither claimed fuel consumption figures or CO2 emissions figures for either the saloon or estate.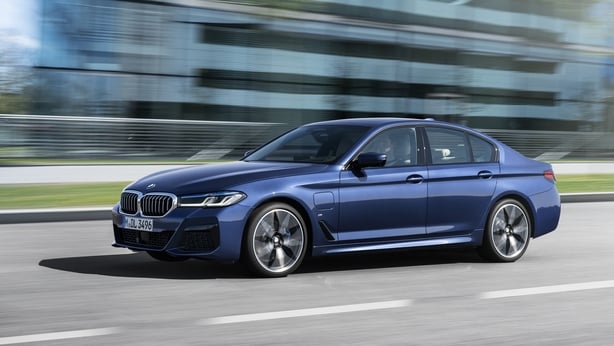 Most of the emphasis on the re-design of the 5 Series has been on improving chassis dynamics, as BMW strives to stay ahead of its arch competitors, the Mercedes E-Class and the Audi A6. Technology is also a key area - the latest in radar and a camera technology has been deployed.
One key interior change has been made and that is to replace the older 10.25 inch screen with a new 12.3 inch one - something that will make a very welcome difference and keep the car in line with the sort of interface offered by Volvo, which has one of the best screens around in the XC 60.
The new car comes in SE, M-Sport and M-Sport Edition versions. The 520 i 184 horse power starts at €51,850, while the M version of it will cost €56,680 and the Sport Edition version will cost €62,900.
The 520 D, with 190 horse power, starts at €52,100, with the M-Sport version of it costing €56,830 and the Sport Edition costing €62,900.
The full-time four wheel drive X version of the diesel 2.0 litre will cost from €55,390.
The Touring, or estate, version will start at €55,570 for the 2.0 litre petrol and €55,760 for the 2.0 litre diesel.