Kia's fourth generation Sorento SUV will go on sale later this year, with a more flexible seven-seat option and a choice of diesel or hybrid engines.
Kia has revealed only limited details of its newly revised Sorento, a car that has achieved a lot of attention because it's one of the few SUV's that offer a third row of seats in the rear and still comes in at a relatively affordable price.
It's expected to arrive in Ireland towards the end of the year with a choice of either a 2.2 diesel engine or a plug-in hybrid petrol. That 2.2 diesel option might be a bit punchy for many looking at this car, especially when it is being used for family transport purposes in the main. And that's where the plug-in hybrid option comes. It runs in conjunction with a 1.6 petrol engine.
No prices have yet been announced.
Kia says the new Sorento will have more interior space - including more distance between the main rear seats and the third row - and that the car is designed to be more desirable than the original all-wheel drive model first introduced 18 years ago. The car is slightly wider and is longer than the outgoing model, with this feature emphasised because the front and rear overhangs have been reduced.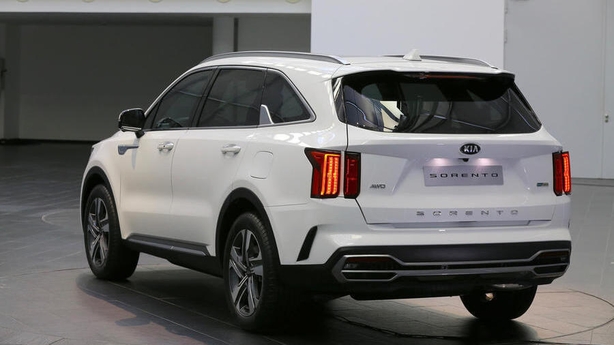 The design lines have been reshaped and the interior has been improved to give the car a more upmarket feel. Emissions and fuel efficiency have also been improved, according to the company.
It also says the Sorento "will be Kia's most high-tech car ever, thanks to its progressive connectivity, driver assistance and infotainment technologies".
Twin digital displays will deliver "advanced graphics, new telematics features and smartphone connectivity."
A 12.3-inch digital driver instrument cluster is twinned with a 10.25-inch touchscreen infotainment and navigation system at the centre of the dashboard. Many of the car's functions can also be controlled with new buttons on either side of the screen.
The Sorento hybrid has a 1.6-litre T-GDi (turbocharged gasoline direct injection) with a 1.49 kWh battery pack and 44.2 kW electric motor. The battery pack is located under the floor to minimise the impact on cabin or luggage space.
A plug-in hybrid version is also planned towards the end of the year. Four wheel drive will be an option.
There's an extensive list of safety features but we'll have to wait for the precise specification for the Irish market until the car nears its launch date here.