BMW may have emerged well ahead of the pack in terms of producing a car that could, if the figures stack up, virtually eliminate range anxiety for electric cars.
The i4 may be described as a concept car (a car that might conceivably never be produced) but it's intended to inform the production of a car that BMW intends building next year. Given the level of investment in producing a new car and this timescale, what you see therefore is likely to be what you get when we see the 14 coupe car roll off the assembly line.
BMW is claiming a range of up to 600 km, a power output of up to 530 horse power and a 0 to 100 km/h time of about 4 seconds. The latter two statistics are to be expected from an electric car with a very large battery but the first figure is the most striking.
It's one of the highest predicted ranges yet from an electric car and, if it can be achieved within reasonable accuracy, it moves car manufacturers much nearer to the holy grail of a range between 700 and 800 kilometres.
This is considered by many experts to be the optimum range for a lot of people to be comfortable moving over to electric and the kind of figure that would spell the end of the range anxiety concern.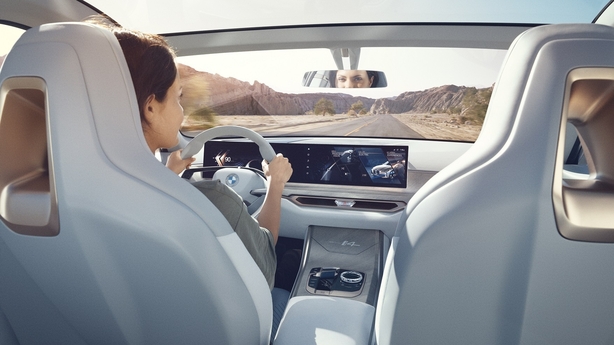 Notice the absence of a conventional gear shift.
BMW says "a number of design elements for the exterior and interior of the concept car will make an appearance in both the BMW i4 and other electrically-powered production vehicles" coming down the tracks from the company.
The car is a four door model and the company says it will offer "not only a high level of practicality, but also a much larger interior than the car's dynamic proportions would suggest".
Aerodynamic measures have enabled engineers to maximise the car's electric range. The trademark BMW kidney grille has, for example, been blanked off and there are newly designed aerodynamic wheel rims.
Almost all operating functions – even the climate control – are integrated into a new curved display as part of an overall approach, centered on reducing the number of controls to the minimum.
The central control panel sees the replacement of the traditional gear lever with a toggle-type shifter.
The rear is described as offering unexpected levels of room, both front and back.
The curved display enable users to explore the various facets of the electric drive system and provide a look ahead in terms of visuals to the next-generation operating system for BMWs from 2021. You can also expect new levels of connectivity – one area every car manufacturer is keen to maximise.
Aural accompaniments to opening the door and starting the car are part of a "soundscape" composed by Hans Zimmer ! They think of everything these days, don't they.