The Peugeot 208 small family hatchback, which now comes with a choice of petrol, diesel and electric power sources has been named European Car of the Year, beating Tesla's Model 3 into second place.
Peugeot isn't exactly a stranger to European Car of the Year awards but the fact that it's newly revamped 208 has won the 2020 one - and beaten Tesla's Model 3 into second place - is especially noteworthy. Almost as noteworthy as the fact that last year Peugeot emerged as the most reliable car brand in the annual J.D. Power survey that lists car brands according to the number of customer complains (or lack thereof) registered.
What will undoubtedly have helped the 208's cause is the fact that it comes with a choice of petrol, diesel or electric. The petrol starts at 18,300 Euros for the 1.2 version, the 1.5 diesel starts at 21,750 for the 1.5 version and the electric comes in at Euros 28,994, after grants and VRT reductions. That brings it inappreciably lower than some other electric cars on the market in the same size bracket.
The petrol version comes with 75 horsepower and 100 horsepower outputs and the diesel starts with 100 horsepower. The electric version, which Peugeot claims has a range of 340 kilometres, produces 136 horsepower. The electric comes with a battery warranty of eight years, or 160,000 kilometres.
However, with a 0 to 100 kilometres per hour time of 8.1 seconds, the 208 does not have the accelerating capacity of other similar electric cars. Peugeot appears to have gone for battery power retention rather than straightforward acceleration ability which, if it is the case, would be fine by me.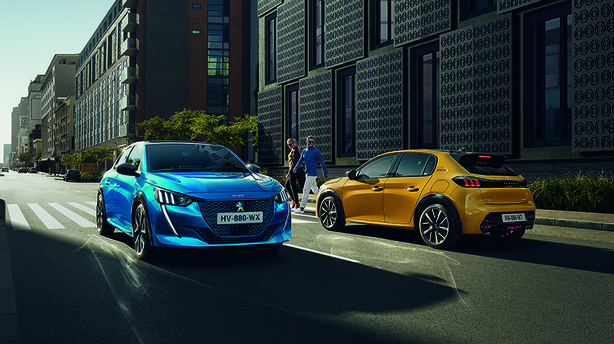 The car has a low and sporty profile and it comes in five-door hatchback only.
Peugeot's i-cockpit design is again the main feature of the interior styling and it also comes with the company's smaller steering wheel, which people either take to or don't - it's a matter of personal taste.
Standard equipment from the base model up includes 16" alloy wheels, tyre pressure monitor, spare wheel (for petrol and diesel versions), electronic stability control with hill assist, multifunctional leather steering wheel, hands-free start, alarm, six airbags, air conditioning, comfort seats, cruise control and speed limiter, extended traffic sign recognition, auto headlights, DAB radio, rear parking sensors, PEUGEOT i-Cockpit interior (with a 7" touchscreen) Mirrorscreen, USB socket, customisable digital heads up display) and smartphone holder.