BMW this week unveiled the Mini Cooper SE – the first small car in the premium segment to make the move to fully electric.
Now in its 60th year, the manufacturer celebrated the iconic car's landmark birthday by taking the wraps off the electric version.
The low-slung go-kart-like car has 184 bhp and is capable of 0 to 60 km/h in a breathtaking 3.9 seconds (a performance hot on the heels of the Mini Cooper S). It has a claimed range of up to 270km on a full charge.
And while boot sizes can be seriously underwhelming in electric cars, the electric Mini still has an impressive 211 litres at the rear.
An on the road price of €27,765, (including an SEAI grant of €5,000 and VRT rebate of €5,000) places this car right in between the cheapest electric car (Renault Zoe) and the most popular (Nissan Leaf).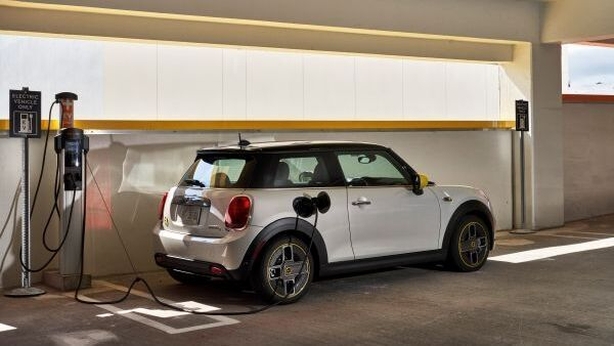 With a slick new 5.5in digital dashboard behind the steering wheel and connected navigation as standard, the Mini Cooper SE can be charged at a household socket, wall-box or public charging stations.
The Mini Electric has the same body shell as the traditional three-door hatch, although with a few subtle differences, including an embossed Mini Electric logo on its side scuttles, tailgate and front radiator grille.
The electric version grille retains the Mini's hallmark hexagonal shape but is now closed given the car requires less cooling. BMW say this enhances the vehicle's aerodynamics in collaboration with an enclosed undercarriage, rear apron and optional 17in corona spoke two-tone wheels.
There's plenty of tech at the mid-level trim, including rear park distance control, rear camera, seat heating and a driving assistance pack.
There are four driving modes – Sport, Mid, Green and Green+. Regardless of which mode is selected, the driver can select intense or low-level power generation which recharges the battery when you come off the accelerator and simultaneously acts as a braking force.
Just above the right-hand rear wheel where you'd normally find the petrol cap is the charging plug. Most importantly, the car comes with both home and public charging cables as standard. At a fast-charging station an 80 per cent charge can be achieved in an impressive 35 minutes.