Over one in ten car buyers who choose a small SUV crossover choose a Nissan Juke. And they're not all young and trendy.
In fairness to Nissan, it has broken a mould or two in recent years The Qashqai became a phenomenal hit across the world by offering people an SUV design at saloon car prices. The came the Juke which, despite its funky (less than appealing for some eyes) image became an unexpected hit with older drivers and younger ones alike. It was a car to love or hate, with very little in between.
Now the latest incarnation has arrived and it's going to be a bit more of the same when it comes to appeal. You're in one camp or the other, but not in both. The car's design has been tweaked but it looks very much like the one it is replacing.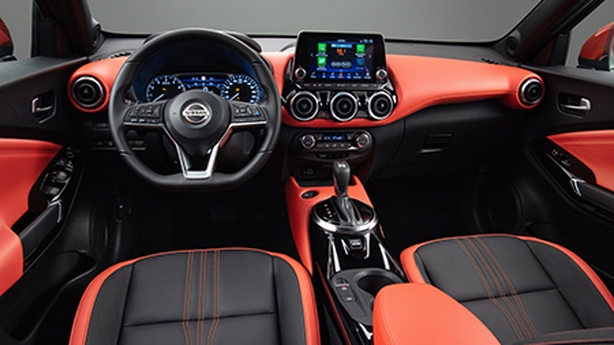 You can customise colour schemes to your heart's content
Room in the interior ( I have to say my first impression was that the rear leg space was still cramped) and the boot space has been improved and the boot is some 130 mm wider; there are new seats, lower emissions and consumption (Nissan says); LED lights have been introduced front and rear, the acoustics have been improved and there are several other changes. But the essence of the car's styling remains almost as it was.
There is no shortage of interior and exterior colour choices and blends of colours.
However, there is only one engine option - a 1.0 litre petrol turbo producing 117 horse power from a three-cylinder block. Emissions are between 135 and 143 grammes per kilometre for the car with a manual gearbox or between 138 and 147 for a car with an automatic gearbox.
Safety features on the slightly more expensive versions include intelligent emergency braking with pedestrian and cyclist recognition, intelligent cruise control, traffic sign recognition, intelligent Lane, intervention, rear cross traffic alert and blind spot intervention.
The Juke is available in 5 different grades – XE, SV, SV Premium, SVE and N-Design. The entry-grade XE model is be available from €21,995 rising to €26,950 for the top of the range SVE and N-Design grade versions. You'll have to go for a model above the basic version to access Apple Car Play and Android.