Electric cars are getting better yet charging infrastructure is still a major problem in this country. But Hyundai's Kona proves itself very capable of significantly reducing range anxiety.
There's nothing worse than the sinking feeling you get as the battery or range indicator on an electric car begins to drop to the point where you have to worry whether you will get to your destination or a charging point. It's called range anxiety and the term could'nt be more relevant in Ireland, where charging can be very much a game of chance. If you don't have a home charger, it's an even greater game of chance as you compete with hoggers and non-electric cars parked in charging bays.
It's the reason some people say an electric car is an ideal second car in Ireland. You can do all the city hopping in the electric and then fall back on the petrol or diesel car when you have some appreciable mileage, the argument goes. In the case of the Hyundai Kona, however, the range is very impressive and you can cover quite a lot of ground before you have to start worrying about your next charge.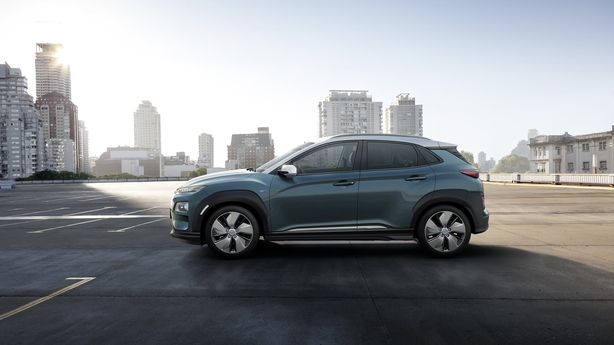 In fairness, it's not record-breaking (some experts believe electric cars will only break final ground when the range is at least 600 kilometres), but the Kona I drove (with a 64 KW battery) allowed me to drive 266 kilometres and still have a reserve of 77 kilometres range. For an average or city driver, it's a perfectly acceptable and reassuring range that allows that much driving without any fuss whatsoever. It also means you can cover a fair bit of the country too.
It's the first time I felt I really did'nt have to concern myself with range and where the battery level reading and the available range on display actually tallied reassuringly. In other words, it's the electric first car of its size which I felt truly comfortable driving and at ease with the power source.
The other car that comes near it in this bracket is the Kia E-Niro, as reviewed here recently by my colleague, James Mc Namara. The Koreans, it seems, are leading the way when it comes to range and affordability.
As expected with an electric car, the performance is punchy and you get the equivalent of 200 horse power. There is instant acceleration and the car runs smoothly and effortlessly, albeit with some road noise.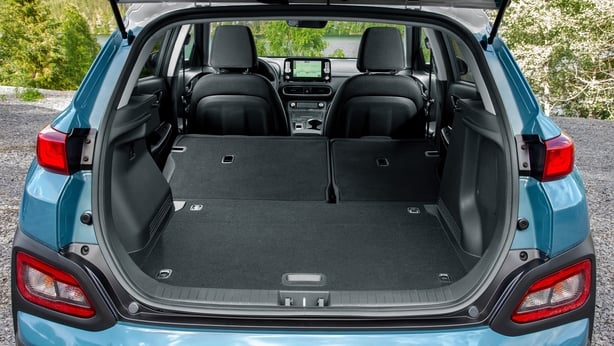 Unlike its other electric stablemate, the Ioniq, the Kona has good lucks and matches up very well with any other comparable crossover-style car. The interior is roomy and comfortable, with the exception of the rear legroom, which is limited. So too is the boot, unless you lay the rear seats flat to get maximum accommodation.
The infotainment screen is smallish and a its graphics bit dated but the rest of the cockpit is well-laid out and functional. The gear selection, for example, is controlled by a set of buttons for drive and park settings - simple. That's the thing about electric cars - they have fewer moving parts and are quite simple in their engineering. On the other hand, you don't get very powerful headlights, that take from the charge.
The car is also equipped with emergency braking and a lane assist system to prevent you wandering over white lines.
It also has an impressive 5 star Euro NCAP crash test programme rating, which is reassuring and a big plus.
The Kona costs a very reasonable €38,630 after grants. It's a bit above the average when it comes to similiar petrol or diesel cars but you will enjoy an instant and appreciable reduction in running costs. Charging times on a home charger are about nine hours and a fast-charge system should get the car back up to 80 per cent in about an hour.
Overall, this is the best electric car I've driven so far. From its battery range to its simplicity and price, the Kona sets a standard. You would have to pay a lot more for other cars that offer exactly what the Kona does. And that includes some of the premium names.
The Kona's abilities also allow it to be considered as a first car rather than an ideal second car.