Volkswagen has previewed a system that could allow for robots to take over the charging of electric cars in designated parking spaces. It says the robots can take over the charging function from the driver, and will work in conjunction with self-driving cars.
Volkswagen says the development of the technology means every parking space can become a charging point, putting an end to the often frustrating experience drivers have of searching for a car charging point that is available and functioning.
The system - still a long way from being introduced - is designed to drive to the electric car completely autonomously and manage the charging process for the driver. It is being designed to deal with several cars at a time.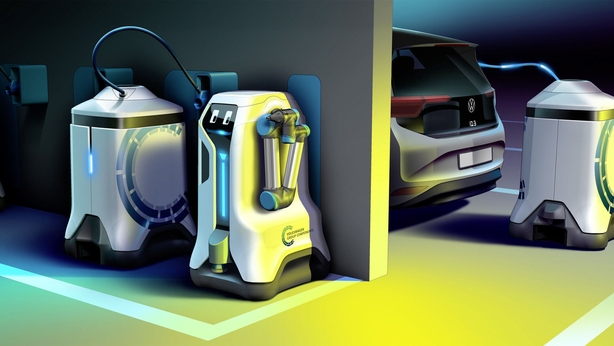 The company says that from opening the charging socket flap to connecting the plug, to decoupling – the entire charging process occurs without any human interaction. "The mobile robot brings a trailer in the form of a mobile energy storage device to the vehicle and connects them; it then uses this energy storage device to charge the battery of the electric vehicle. The mobile energy storage device stays with the vehicle during the whole charging process. The robot, in the meantime, charges other electric vehicles. Once the charging service is complete, the robot collects the energy storage device and brings it back to the charging station," VW says.
"The mobile charging robot will spark a revolution when it comes to charging in different parking facilities, such as multi-storey car parks, parking spaces and underground car parks because we bring the charging infrastructure to the car and not the other way around. With this, we are making almost every car park electric, without any complex individual infrastructural measures", says Mark Möller, Head of Development at VW Group Components. "It's a visionary prototype, which can be made into reality, quite quickly, if the general conditions are right", Möller continues.
The robot, which can drive autonomously, is fitted with cameras, laser scanners and ultrasonic sensors.
Moller says the mobile charging robot can be put to use in various ways. It isn't just a robot arm that connects a car to a fixed charging station. Instead, drivers have the choice to park in any available space, independent of whether a charging station is free or not. The robot brings the charging station in the form of a mobile energy storage device directly to the vehicle.
For operators of different parking facilities, this is a quick and easy solution to electrify every parking space. "This approach has an enormous economic potential", says Möller. "The constructional work, as well as the costs for the assembly of the charging infrastructure, can be reduced considerably through the use of the robots."