It's the benchmark for cars in its class. So does the all-new Volkswagen Golf still have it ? Our Motoring Editor, Donal Byrne, has had his first drive.
When a company is selling - somewhere in the world - a car every forty seconds, it's not going to tinker too much with the winning formula. So it is with Vollkswagen and the eighth generation of the Golf, a car whose origins go right back to the VW Beetle.
Not tinkering too much with the wining formula means having to launch a new car - all new - that has all the attributes of the outgoing model but also moves the car into a new space to ensure it can compete with the best that's out there and appear innovative and modern.
This kind of challenge means the new Golf does'nt look radically different from the previous model - external changes have to be subtle to retain a loyal customer base ( and Golf drivers tend to be a loyal lot), so you'd be hard pressed to spot the differences. In this case, the main one is probably the pillar to the rear of the car, above the back wheel arches, which has been widened. The greater use of glass and a more sloped roof line also accentuate the car's profile.
In terms of engines the choices will be petrol, diesel and mild-hybrid.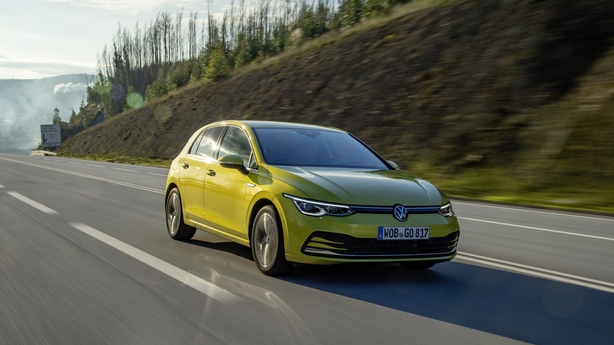 What Golf fans will really want to know about, however, is whether it retains the car's original strengths and attributes. Does it feel solid and well-built ? Is it comfortable to drive ? Does it accommodate four as comfortably as two and, possible above all, does it feel like a Golf ? Does it have a good boot and a practical layout ?
Several million Euros will have been spend to get this car right and, after my first drive, it looks as if the money has been spent in the right places. The answer to the questions appears to be yes. Take the interior, for example. The dashboard has been creatively designed to offset a highly-impressive digital display. There are no buttons any more - everything is touch and swipe. It's easy to use, modern and elegant and makes for a near ideal driving environment. It's actually better than the cockpit of BMW's new 1 Series.
in driving terms, you can see where the money has also been spent to good effect. The new car is well damped, surefooted and gives an excellent account of itself in mixed driving conditions.
Even with all the seats up, the boot space is an impressive 380 litres and with the rear seats down you can extend that to over 1,200 litres, which means the Golf will still be as popular on the IKEA run as it is on the school run.
So what about the other key aspects of the new Golf ? It starts with the base model, costing €25,000. For this you'll get LED headlights (and they are very impressive in operation), a lane-keeping assist system, wireless APP connection and key-less start.
However, few people will opt for the base model. With the prevalence of PCP's, people tend to look at a monthly spend than an overall price and this determines what they feel they can afford. With most people using PCP's now (70 per cent of Volswagen's customers in Ireland), they are moving up and in the case of the Golf this will be to the Life model. This version costs €29,000 and includes the equipment above, plus a navigation system, 16" alloy wheels, adaptive cruise control., park distance control, wireless phone charging, a leather multi-function steering wheel, an anti-theft alarm, and ambient lighting. This Life version will be the one most people opt for.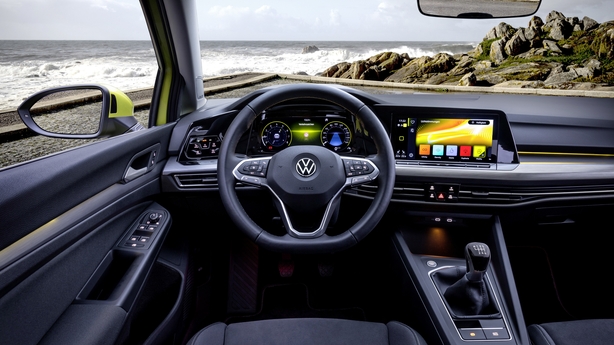 The cockpit is very modern and connected. The infotainment screen on the base model will be smaller than the one shown here but will be available on higher-equipped models.
The first versions to arrive will be the 2.0 litre diesel with 115 horse power output (yes, diesel, but much cleaner, says VW) and the 1.5 TSI petrol, with an output of 130 horsde power. These will be followed by other variants, including a 1.0 litre TSI petrol with a 90 horse power output. It is expected to cost from €24,000.
Diesel is obviously becoming far less popular but outside our cities it is still the preferred choice of many and of those who do high mileage every year. VW says the new diesel is much cleaner than any it has produced before and fuel consumption has been cut by up to 17 per cent. In the case of the petrol engines - with mild-hybrids - that figure has been cut by 10 per cent, the company says.
There won't be an electric version - that role falls to the VW ID that starts to come in next year - so it means the E-Golf is gone. There will, however, be plug-in hybrid versions coming next year.
First impressions of the new Golf are that, yet again, we have a car that looks a lot like the outgoing model but which has been much more cleverly thought out. It's well bolted together and meets most challenges effortlessly but it's the connected nature of the car and the really well-designed interior that mark it out.
The digital cockpit comes with either an 8.25" or a 10" screen that enhances the connected systems which allow everything from phone to App connections to music. It may involve some readjustment for some Golf drivers but it's a treat to use. Besides, Apple does'nt supply an instruction manual for an i-Phone. A lot of the fun is in just learning to get the best out of it.