As Volkswagen's electric car programme accelerates, we're beginning to see what cars like the Golf and Passat will look like in the not too distant future. Here's a preview of the plans for the Passat estate.
The Passat estate is one of VW's best-sellers in Germany but its future replacement (the ID. SPACE Vizzion) won't look anything like the car we know now. It's still a concept but it likely won't be far off the Passat estate of the future (car designers work years in advance on cars).
As with all electric cars, it won't be saddled with an engine or a radiator, for example, thus allowing much more interior room and the car is described by VW as having "GT design and the space of an SUV". It will make the car more of a premium-sized car than a mid-range one.
VW claims the 82 kWh battery capacity allows a range of up to 590 kilometres and accelerates to 100 km/h in 5.4 seconds. The use of airflow apertures at the front ( allowing air to flow right through to the rear of the car) are said to optimize aerodynamics much more so than in a conventional car design.
There will be a fully-digitalised cockpit. All relevant driving information is shown in an augmented reality head-up-display. There will be a mini display containing only basic driving information.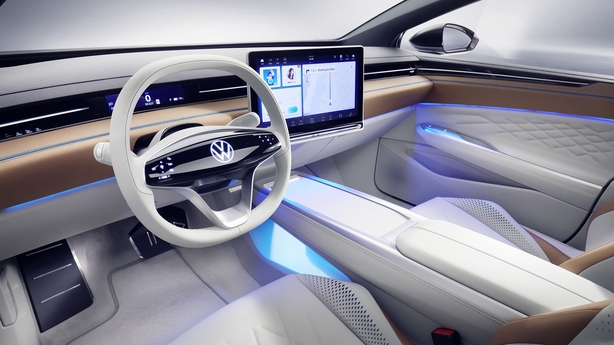 " All entertainment, comfort and online functions, as well as vehicle settings are grouped together on a 15.6-inch touchscreen which appears to hover in mid-air. The driver also receives key information intuitively from the ID. Light – an interactive light strip between the front pillars", says VW.
As might be expected, careful attention is being paid to the use of interior materials for the future. In the case of this concept car, sustainable materials are being planned. A product called Appleskin – made from residual material from apple juice production- is intended to be used.
VW says the car provides " a concrete outlook to the series production version which will be presented at the end of 2021, and launched in different variations in Europe, North America and China". And that means it won't be just a concept for much longer.