Toyota has ditched diesel but Skoda says four out of five bigger saloon car buyers still want a diesel. We compare Toyota's hybrid Camry with Skoda's new Superb.
It's the old world versus the new when it comes looking at how Toyota's bigger Camry saloon compares with Skoda's latest version of the Superb. Both are big cars and both have established a good reputation on the market. In broad terms they offer essentially the same thing - a bigger profile, space and comfort for a long journey. Yet under the bonnet they could not be more different. The Toyota runs on a 2.5 petrol engine combined with a non-plug in battery, while the Superb runs on a well-proven diesel engine that has already powered a range of cars across the Volkswagen family range. So, partial electric motoring pits itself against a full fossil-fuelled oil burner.
Toyota has invested hugely in hybrid technology (although in 2020 it will move further into an all-electric range), insisting that its cars are better for the environment and meet a growing demand for cleaner and more fuel-efficient engines.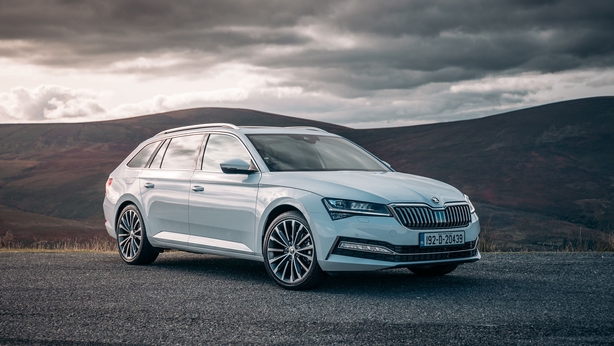 Skoda, like other manufacturers, insists that its current diesel engines are among the cleanest ever produced and that four out of five buyers of the Superb want diesel. It's a fairly straightforward logic for those who do big mileage (diesel was never meant for cities or low mileage in the first place) and want that mileage to be driven as economically as possible.
So, we decided to put both cars to the test to compare how efficient and economical they were. We picked the exact same routes of almost 500 kilometres, with city driving mixed with longer motorway runs. Some of the results were surprising. Given the face that the Camry falls back on a 2.5 litre petrol engine and that the Superb has always returned excellent diesel economy, the gap in terms of performance and economy was much narrower than I had expected it might be.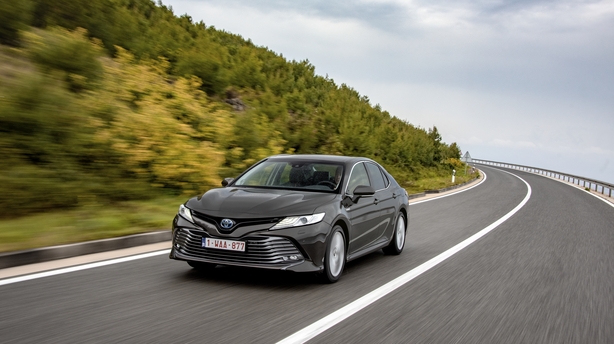 At the start of the journey, the Camry had a full tank and an available range of 660 kilometres, according to the on-board computer. After 550 kilometres it still had a 221 suggested available range, meaning that once the car was up and running in mixed driving conditions its range increased (probably because of smooth motorway cruising) to 771. You also take into account that the car is generating and using its own electricity that kicks in and out imperceptibly, thus replacing fuel consumption with electricity consumption. The average fuel consumption was 6.1 litres of petrol per 100 kilometres (46.3 miles per gallon in old money).
The Skoda (an estate version but very similiar in consumption to the figures I've recorded from saloon versions) had an indicated range of over 900 kilometres. After 500 kilometres in the same conditions as the Camry, the fuel consumption average was 5.8 litres of diesel per 100 kilometres (or 48.7 miles per gallon).
This indicates a differential between the two cars of just 2.4 litres of fuel per 100 kilometres. Now that did surprise me. I had expected a greater differential between the two, especially given the long motorway stretches involved.
In cost terms, the journeys were not that different either, even allowing for the difference in price between petrol and diesel. Based on last month's average pump prices (€1.43 for petrol and €1.33 for diesel), the cost of the journey per 100 kilometres for the Camry was €8.72 and €7.71 for the diesel.
So, you can make up your own mind as to whether a hybrid option might be a better alternative to a traditional diesel one, even on longer journeys.
A few observations on both cars:
The new Superb is not an all-new car. It's a face-lifted version and is'nt a car noted for its personality or styling. Its big strengths are great interior space, probably the best in class, and a huge boot that makes it a hit with tazi drivers all over the country. The saloon version has 625 litres of boot space and the estate has 600 - both enough to take everything, including the kitchen sink.
The Sportline version, which most buyers opt for, has Alcantara leather, predictive cruise control and matrix LED lights front and back. Unlike the Toyota, it has an excellent infotainment screen - functional, clear and easy to use. It's a model for other manufacturers and has distinguished many VW family cars from their competitors because of its user-friendliness and ability to lessen distraction for the driver.
Toyota's on the other hand is a major disappointment and an irritant. It is too small, the graphcs are crowded on top of each other and its fiddly to use.
I've criticised the Lexus system before and now I think Toyota should have a re-think on something that is funadamentally flawed.
However, the camry is the more appealing of the two cars. It has a bit more emotional appeal in its design and it was a good deal more comfortable and less utilitarian in its interior finish than the Skoda. Ultimately though, I found the hybrid contribution more suited to today's world than the older and recently discredited diesel option - notwithstanding the fact that newer diesels now are cleaner.
The Camry has leather seats, automatic high beam adjustment, adaptive cruise control and lane departure alert with steering control. Radar sensors and cameras help detect potential collisions and monitor road signs.
It also has LED lights, keyless entry, rear privacy glass, power retractable heated door mirrors, rear view camera, dual climate control and 3 years servicing.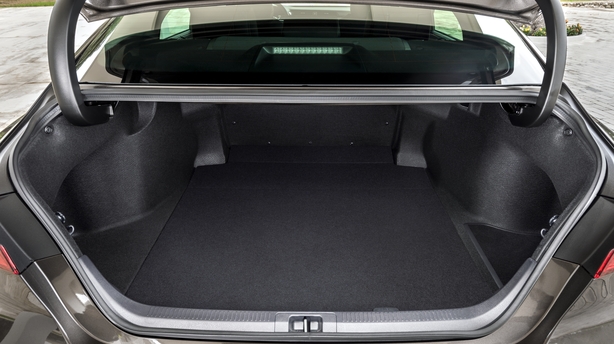 Both cars run on automatic gearboxes and run pretty smoothly in urban and motorway environments.
The Camry starts at €39,750 and the Superb starts at €30,750.
The Skoda therefore wins on the price front - the Camry on that of the overall experience.