Now the fourth best-selling car in Ireland, the Skoda Octavia is due for replacement next year. You can expect major influences from Volkswagen's Golf.
It's not an endearing car, but it is among the most practical cars ever produced in Europe. You only have to look at the number of Octavias used as taxis in Ireland to realise that. It's also a ubiquitous choice in many a farming household, as a back-up to the equally ubiquitous Land Cruiser. Lots of interior space and a huge boot have been two of its best characteristics and the car also has a reputation for reliability and longevity. It does'nt go much beyond that, I'm afraid.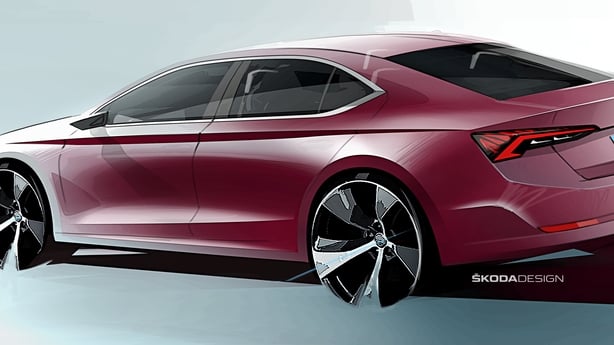 The fourth generation of the car is due to be launched in Ireland next year, probably near the end of the year.
Skoda is obviously not giving away too much on the car at this stage but you can expect to see heavy influences from the VW Golf, the 8th and latest generation of which will come to Ireland before the Octavia. The Golf is built on the same platform and both cars will have many shared components.
That means the Octavia will probably have a choice of 1.0 litre three-cylinder and 1.5 petrol engines and a choice of 1.6 and 2.0 litre diesels. It will be some time before we see electrified versions, as the VW Group (of which Skoda is a member) will be concentrating on its own VW electric range first. You can, however, expect to see Skoda hybrids relatively soon.
The sketch images of the new Octavia look sharp and indicate that Skoda has moved way from the nondescript styling at the front and rear of the car. Bear in mind though that studio sketches can indicate something much more promising than the final result.