Volkswagen 8th generation Golf arrives next March and the key engine is going to be a 1.0 litre petrol unit. We also now have details of some of the basic equipment on the car.
We already knew that the new car is being built on the current main VW platform and that the the new Golf will be lighter and bigger than the current model.
We now know that the key engine for the Irish market will be a 1.0 litre petrol, producing 110 horse power - a car that reflects the middle ground being taken in advance of full electrification.
A diesel will also feature - a 2.0 litre unit producing 115 horse power - again an engine that will likely play a part in the run-out of diesel engines from the market as the tide continues to turn against diesel. There will be eight versions of the car in total.
VW says the petrol and diesel engines have been refined and advanced to achieve low emissions and improved fuel efficiency.
The new Golf will also have a mild-hybrid function that allows the car to generate energy while braking, although it won't appear as a fully electric car. Fully electric will be the preserve of the Volkswagen's ID family of cars, the first of which is due to arrive in Ireland next year.
Standard equipment on the car will include LED headlights and rear lights, keyless start, a digital cockpit and a We Connect system that will accommodate mobile on-line services. There will also be automatic air conditioning, a lane assist system that helps stop you from from crossing lanes unintentionally and a front radar to detect vehicles and objects in front.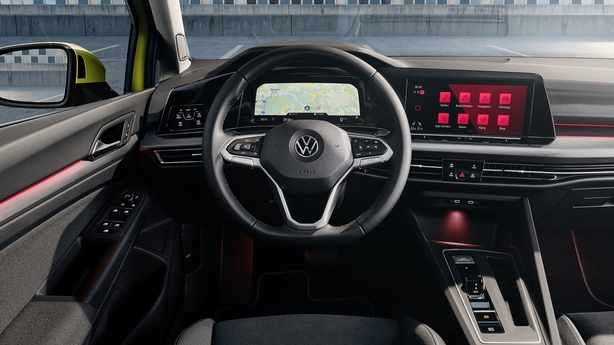 VW says that practically all displays and controls are now digital, with touch buttons and sliders the replacing traditional controls.
VW says the car is a "trendsetter in terms of its digitalised and connectivity-oriented interior world, its assisted driving features and its online-based functions and services."
Karlheinz Hell, Volkswagen's small car boss, told Auto Express magazine: "The next Golf will take Volkswagen into the era of fully connected vehicles with extended autonomous driving functions. It will have more software on board than ever before. It will always be online and its digital cockpit and assistance systems will be the benchmark in terms of connectivity and safety."
The new Golf is expected to go on sale here in March of next year.