Volkswagen begins its full transformation to electric cars next year with the launch of its ID.3 range and battery ranges from 330 kilometres to 550 kilometres. The first goes on sale in Ireland next summer.
We've moved beyond the stage of of mere curiosity about electric cars at this stage and whether or not they really do represent the future of motoring. We know they do and now the important questions relate to the range of any given electric car and its price. Volkswagen, one of the biggest car manufacturers in the world, has now come up with challenging (for their competitors, that is) answers to both questions in the shape of its new five-door ID.3 range. It has already taken over 30,000 pre-orders for the car throughout Europe.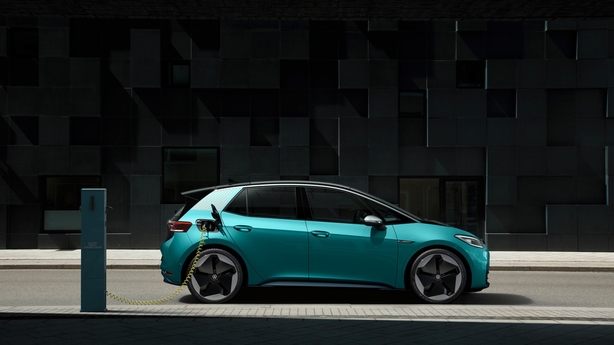 From next year it will be offering an ID.3 with a battery range of 330 kilometres that will cost under €30,000. This car is due to go on sale at the end of 2019, but a more expensive version of the same car will go on sale earlier next summer. This car has a claimed range of 550 kilometres and will cost €40,000. These prices are calculated on current government grant scales and so include the appropriate grant aid.
The ID has quite a long wheelbase and very short overhangs and VW says the car has better interior space to accommodate five adults in comfort.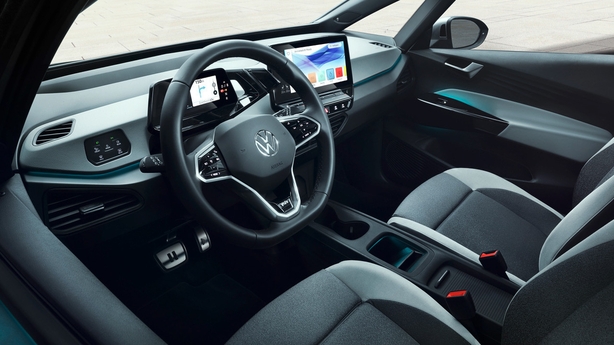 All controls – including those on the electrically adjustable multifunction steering wheel – are operated using touch functions featuring touch-sensitive buttons. Only the electric windows and hazard warning lights are still operated using standard switches.
VW says the batteries are integrated into the underbody, which has a positive effect on driving dynamics, as it moves the centre of gravity in the ID.3 significantly lower.
The first car to come in summer – the more expensive ID.3 1st – has a 58 kWh battery, which is driven by an electric motor at the rear axle. It has a maximum speed of 160 km/h.
The basic version of this car includes a navigation system, a DAB+ digital radio, seat heating and steering wheel heating, armrests at the front, a Mode 2 charging cable and 18-inch light-alloy wheels.