The third generation of Kia's quirky e-Soul now comes only in a fully electric model. But with a big price tag, small boot and a cheaper stablemate offering almost all the same features, will this exciting EV be enough to win over Irish car buyers?
It's raining heavily at Kia HQ. As I squint through the water pouring from the peak of my waterproof hood, I really don't know how to feel about this car. They say beauty is in the eye of the beholder but my initial encounter with the new e-Soul leaves me with conflicting emotions.
I mean, it's boxy. Really, quite boxy…dare I say, with a touch of the popemobile about it. And with its narrow, elongated LED headlights, jet black body and bright red roof, my first thought is that this would be a great vehicle for a Sith Lord from Star Wars. It's not that this car is menacing or ugly, it's just very different from your conventional urban crossover.
I dart inside to escape the atrocious weather where I'm pleasantly surprised. The seats are wonderfully comfortable and made all the more soothing by activating the heated seat function. The heated steering wheel gets the circulation in my hands going before I select 'Drive' on the circular dial to my left.
Pulling away I momentarily believe I'm having an out-of-body experience as a curious sound envelops – a cross between a jangling wind chime and a hovering spaceship. The eerie music is coming from the Virtual Engine Sound System (VESS). This artificial noise is designed to give ample warning of your approach in the church car park. It can be turned off, but that wouldn't be smart.
Overall, the interior is a little plasticky, although it's very well put together and doesn't feel cheap. Meanwhile, the stitched steering wheel is substantial, compact and pleasant to grip. The rear seats are pretty generous and capable of accommodating three grown adults. But with the battery packed underneath it, the limited 315-litre boot space isn't what car buyers have come to expect from a family car.
Back in the front the 10in touchscreen infotainment system is the pièce de résistance. It's the most expansive wide screen I've seen in a car and provides a vibrant window for sat nav, Spotify and hands-free calls.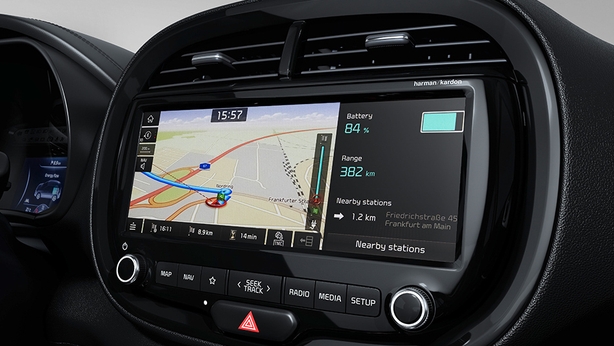 The same hi-res control panel drives the car's Harman Kardon sound system, fitted with high-frequency tweeters to generate an impressive audio experience. Kia has also etched an eye-catching "acoustic-inspired" texture into panels at each door handle in the front and rear.
On the downside, while the lack of grill at the front gives the bonnet a slick finish, the flimsy plug cap is flappy and far too fiddly when you try and snap it back in place.
Let's cut to the chase. Aside from the aesthetic or finish of this car it will ultimately be judged on performance and range. This pacy workhorse claims it can travel 452km (the 2014 model only had a range of 160km) on its new 64kWh battery before you will need to plug it back in again. If this doesn't cure any range anxiety, the different driving modes should put you at ease.
The acceleration in Sports mode is an absolute joy and the experience further enhanced by a change in the digital dashboard to indicate torque levels as you swiftly accelerate from 0-to-100 kph in 7.9 seconds. But using all of the car's 204 bhp won't do much for the battery's longevity. You can also choose from 'Normal', 'Eco' and Eco+'. Once in eco-mode it's reassuring to see the car's battery levels occasionally increase again owing to the regenerative braking function.
Paddle-shift controls at the rear of the steering wheel, which control battery power, allow you to slow down the car without touching the brake pedal. There are also a raft of safety features, including lane keep assist, cruise control and front collision avoidance.
During my test drives the e-Soul delivered admirably on its claimed range, almost down to the last kilometre over two full charges. But this comes with the usual health warning about Ireland's recharging infrastructure. While there are over 1,000 charging points nationwide, even with the kind of range on offer here, you will need to plan your journeys with military precision outside of Dublin. You will also need to install an 11kW wall box to comfortably charge at home.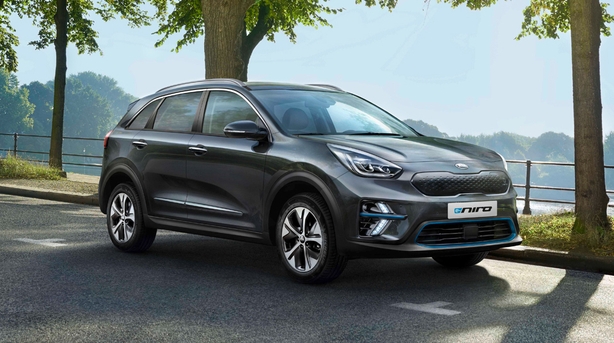 If range anxiety still proves too much, Kia's e-Niro plug-in hybrid might be a better option, particularly with a starting price €4,500 less that the e-Soul. This version of the e-Niro still delivers a full electric drive for around 50km but then switches to a petrol-electric hybrid thereafter.
Admittedly, the e-Soul has plenty more personality than the e-Niro but you can quickly get over that when you learn that the life and, ahem, soul of the party starts at €35,995 – even after €10,000 of VRT relief and an SEAI grant
Some have likened the e-Soul car to a downmarket Land Rover Defender SUV, but owning one is by no means slumming it. It really is great fun to drive and turns heads at the traffic lights.
And don't forget Kia's famous seven-year warranty still applies here, which also covers the car's electric motor and battery pack.
Whether the e-Soul is the EV for you ultimately depends on compatibility - and don't let those first moments put you off.