Mercedes first electric car for the Irish market is an SUV with coupe looks and a claimed range of at least 375 kilometers. It also comes with a hefty price tag.
The ECQ is based on the current GLC model and is the first of many Meredes models to undergo the transformation to all-electric. By next year it will have been joined by at least another nine electric cars and, by the end of this year, fifteen plug-in models.
Based on the new system for measuring consumption (WLTP), Mercedes claims a range of between 375 and 417 kilometres is possible on one charge. It also says the car's charge can be increased from 10 percent to 80 percent in 40 minutes, as long as you are using a fast-charger. Anyone relying on an old-fashioned standard wall plug may well have to take a two-day break from driving, as it can take 40 hours to fully charge this car the old-fashioned way.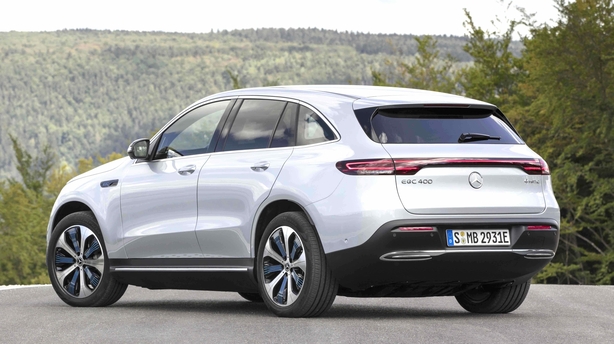 Interestingly, Mercedes is planning a new large S-Class with a range of 740 kilometres in the near future.
Like Tesla, Mercedes has gone for softer lines with this car. There isn't any of the chiseled design profile used for current models evident here and both front and rear have been aerodynamically smoothed out to accommodate a sloping roofline that helps achieve that sloping roofline.
A lot of work has gone into the interior, something that will be a key selling point as electric cars become more homogenised in the future. Mercedes' excellent screen, infotainment and user interface are used and the company's "Hello Mercedes" voice command system is also standard.
The car runs on two electric motors, front and rear, and has a power output 408 horsepower. Like other electric cars, it majors on acceleration and gets from 0 to 100 KPH is just over five seconds.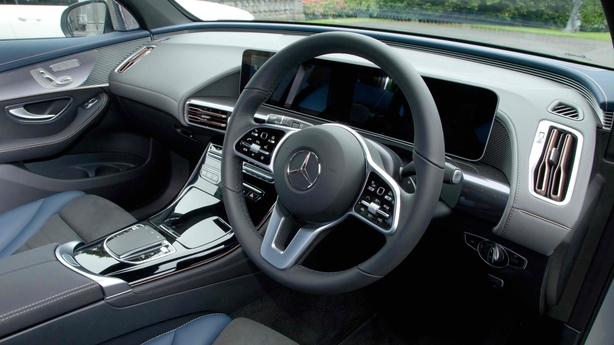 The battery has been extended under the floor area to minimise the amount of space it takes up. However, a cursory examination revealed some boot space has had to be sacrificed to accommodate the 80 KW battery. This battery comes with an eight-year guarantee.
The car comes onto the market early next year and comes with a price tag of 89,450 Euros, which is cheaper than an equivalent all-wheel-drive Jaguar I-Pace or Audi e-tron Quattro, but still a big price to pay for going electric. Initially, only six dealerships will sell the electric range.
Mercedes will introduce its first "affordable" electric car next year with the launch of a new version of the GLA.