It may be a bit behind the curve in the greening stakes compared to other manufacturers, but Mercedes first fully electric model - an SUV - is being launched here next month.
It's hardly what you might call an entry-level car, either in terms of price or equipment levels, so don't expect a bargain introduction to the world of Mercedes' electric motoring. Modeled on the underpinnings of the mid-sized C-Class and with its design heritage from the GLC SUV, the new EQC is set to compete with some of the bigger beasts on the market - cars like the Tesla Model X, the Audi e-tron and the Jaguar i-Pace. The price is expected to be similiar too - expect somewhere in the region of €90,000. And that includes your current tax breaks on electric cars from the SEAI and the VAT Man.
Mercedes has a claimed range of 471 kilometres, but we will have to wait and see what real-world driving conditions reduce this to, as they surely will.
It comes as a four wheel drive with 400 horse power on tap. As with all electric cars you'll be getting lightening quick acceleration that is a rather academic benefit of electricity - 0 to 100 KPH in just over five seconds. However, with that four wheel drive system as standard, one expects the EQC to be quite a heavy car - all the more reason to wait and see just how much electricity it consumes and what the range will be.
Mercedes says the car has the superior driving characteristics of an all-wheel drive vehicle, offers various driving modes with different characteristics and the battery energy recuperation can be adjusted as the customer requires, using gearshift paddles behind the steering wheel. The recuperation is gained when energy is regained through braking, for example.
In "D Auto" mode, the EQC can also adapt recuperation according to the situation, such as heavier traffic conditions.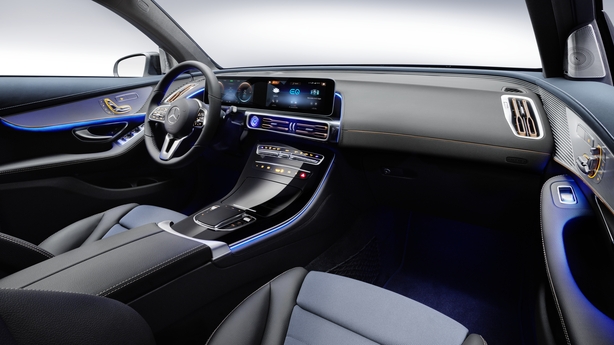 I have'nt yet seen this car but apparently Mercedes has invested quite a lot in terms of aerodynamics to reduce drag. It has also spent a lot on the interior design, using the best of its existing on-board technology. The company produces some of the best screens and infotainment systems and the available images of the dash and displays on the EQC suggest it's going to be ultra streamlined and modern.
Neither do we yet have details of the boot space, which is important in an SUV but can be an issue when it comes to the size of the electric battery and how much space it takes up.
The EQC is only the first of the Mercedes full-electric line-up and it will be some time before we see one of them with an "affordable" price tag.