Nissan has launched a new version of its electric Leaf with a claimed range of 385 kilometres on a single charge.
There is'nt much dramatically different about this new version of the Leaf - the big news is the claimed increase in range compared to that of the current Leaf. Nissan says the bigger 62 kwh battery is about a third larger will deliver over 120 kilometres more that the existing one. Crucially, however, it does'nt take up more interior space in the car and has the same dimensions as the 40 kwh unit.
Nissan says the new battery has a 25% increase in energy and also has a 55% boost in energy storage capacity.
Prices for the new version, which comes in two versions (SE Premium and SVE), start at €37,840.
All versions come with the new NissanConnect infotainment system that includes Apple CarPlay and AndroidAuto for smartphone connectivity.
With a new Nissan app drivers can send navigation routes from their smartphone to their car and from their car
to their smartphones.
Another extra option allows the driver to preset air conditioning or heating while their LEAF is still plugged in.
The new version also uses Nissan's e-Pedal, which allows drivers to start, accelerate and decelerate to a complete stop using only one pedal.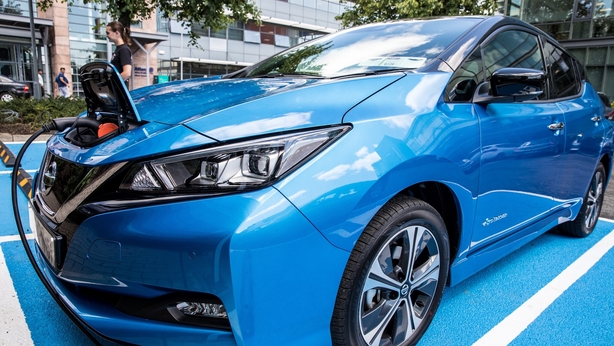 The less expensive version (€37,840) features emergency braking and pedestrian recognition, lane monitoring, front and rear parking sensors, alloy wheels, privacy glass and LED lights.
technologies such as Intelligent Emergency Braking with Pedestrian Recognition, Intelligent
The more expensive version costs from €40,500. This features ProPilot (which eases the effort of steering, acceleration and braking on longer journeys) a Bose Audio System and automatic LED headlights, a heated leather steering wheel and heated leather seats front and rear.