We don't have autobahns and we have an upper speed limit of 120 KPH. So do we need cars like the new Focus ST - a car capable of getting from 0 to 100 KPH in less than six seconds?
In an Irish context, cars like the new Ford Focus ST don't make a great deal of sense. They're built for performance and speed and they offer the kind of driving experience normally found on the track rather than the road.
Neither are they the most environment-friendly - the 2.3 petrol version of the ST puts out at least 179 grammes of CO2 per kilometre. That's one car that might well be halted at the starting blocks if the expected emissions tax bands are significantly widened in the October budget.
Ford expect to sell about 30 of these performance Focus models. So who will buy them and why would they buy them ?
They are, it would appear, some real driving fans left and for them, it's not all about speed. The way this car is engineered is rather special and if you want to get real driving feedback (not just through speed) but with chassis dynamics to match those from BMW and Audi - and they are not far off them - then the ST offers plenty. And the package costs less than what you will get from the likes of BMW or Audi - the ST starts at €39,595.
And, in fairness, you can adjust the car to be more like a standard Focus when the extra oomph is not required.
There are two versions, one diesel, and one petrol. The 190 horsepower diesel is the most powerful diesel ever fitted in a Ford Focus, has oodles of pulling power and is a bit slower to get to the 100 KPH mark - 7.6 seconds. It's also lower on the emissions - 125 grammes per kilometre - and easier on the fuel than petrol.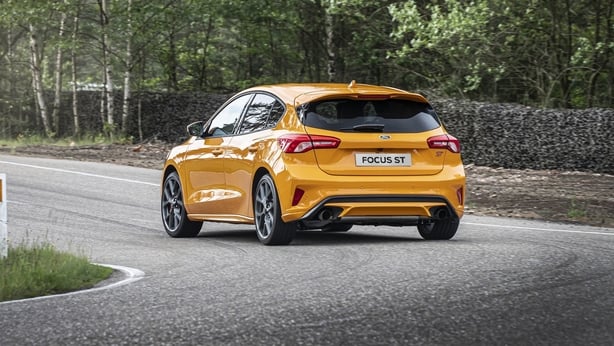 The 2.3 petrol engine is, again, the most powerful engine fitted to a Focus to date and its mid-engine cycle performance gives it a pretty powerful boost of torque between 3,000 RPM and 4,000 RPM. This all means you're getting a great deal of performance when and where you need it.
The Ford engineers have been busy developing technological solutions to performance challenges. For example, air loss to the turbocharger when you take your foot off the accelerator is reduced to ensure you get an instant pick-up when you accelerate again. And the turbo-charger has been tweaked to optimise performance. The steering is very quick and precise.
A new limited-slip differential means you can actually get 100 percent pulling power to a single wheel with more traction and reduce wheelspin.
However, the car does have selectable driving modes, so it's not all a bone-shaking experience. There is continuously controlled damping to vary ride and handling and you can move from one driving mode to another as your driving environment changes.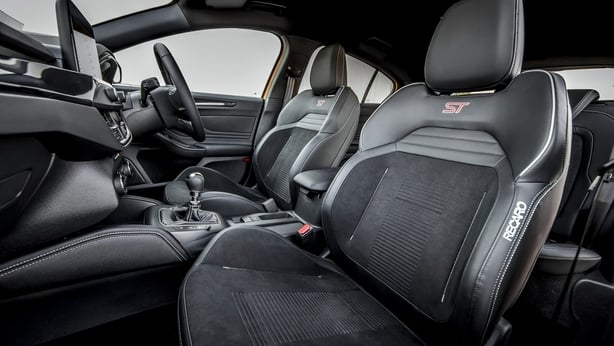 Inside, the standout feature is probably the Recaro performance seats, which are rigid and accommodate you firmly, but they're hard. While the other performance frills are all present, it's still a Ford Focus.
The exterior isn't that radically different from a normal Focus, apart from the wheels which, at either 18 or 19 inches, rather scream performance. The tyres have even been specially developed for the ST. The higher specified version has painted brake calipers, which really are a statement.
But back to the essential question: do these cars make a great deal of sense in Ireland? The answer is no. People are not going to buy them for practical reasons. Anyone paying out the premium for them wants to make a statement that won't necessarily be welcomed by other road users. And are they the kind of people who might decide to get their fun on a secondary road that you're on?
There is no getting away from the fact that the whole raison d'etre of a car like this is high performance and the reality is that much of its capability is beyond the legal limit. And how often is someone going to pay for a session at Mondello Park?
Besides, I've had almost as much fun from an ordinary road-going Focus, which is capable of some of the best - if not the best - road-holding in its class.
The ST arrives in Ireland in diesel form next month with two series: ST-2 and ST-3 with a choice of petrol or diesel engines and hatchback or estate body styles.
Priced from €39,595 (5-door 2.0 litre diesel 190 horsepower) ST-2 features: ST design 18" alloy wheels; front lower grille, high gloss black; front and rear parking sensors; FordPass Connect; gauges integrated a 4.2-inch cluster and partial leather Recaro Performance seats.
From €43,253 (5-door 2.0 litre diesel 190 horsepower) ST-3 features (in addition to ST-2): 19" alloy wheels; painted calipers; fixed full LED headlamps; rearview camera; full leather Recaro seats; power 4-way driver/passenger seats.
The petrol ST2 model starts at €41,099 for the 2.3L EcoBoost petrol 280 horsepower manual 6 speed 5 door and the ST3 model from €44,754 for the 2.3L EcoBoost petrol 280 horsepower manual 6 speed 5 door.