Not surprisingly, Land Rover is joining the ranks of other car manufacturers offering hybrid solutions with its new revised Discovery Sport.
The overall look of the latest Discovery Sport has'nt changed a great deal but it does make a bit more impact this time around, with its LED front and rear lights and and an updated front grille and bumpers.
The more revealing change is the introduction of a so-called "mild-hybrid" system on its 2.0 litre diesel and petrol versions. A mild hybrid uses on electric motor to complement the engine and kicks in when the car is braking, cruising or stopped. The energy harvested during braking is stored under the floor in a compact battery.
Land Rover says that at speeds below 17km/h , the engine will shut off when the driver applies the brakes, before redeploying the stored energy to assist the engine under acceleration to reduce fuel consumption.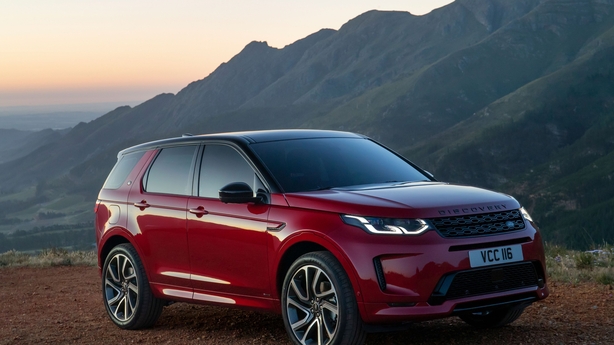 A plug-in hybrid model and a three-cylinder petrol engine will also be introduced later this year..
No prices have yet been announced for the new model, which is available to order from next month.
The fact that the Sport has seven seats is a big plus and there's quite a demand for this 5 plus 2 layout from owners with bigger than normal seating requirements. Land Rover says there are now 24 different possible seating combinations.
New seats across each of the three rows provide more comfort and versatility, thanks to the second row 40:20:40 split fold and a new seat slide functionality to "cover all eventualities".
There is also improved small item stowage across all rows and a twenty per cent increase in fuel tank capacity - up to 65-litres. The infotainment screen has also been increased in size and is now 10.25 inches.
The company says the body is now 13 per cent stiffer than its predecessor and noise and vibration have been reduced.
There will be a range of four-cylinder Ingenium petrol and diesel engines and Land Rover says the most efficient Discovery Sport model will be the front-wheel Drive 150 horse power diesel with manual transmission. Versions with full-time four wheel drive will now features a system that disconnects the full drive from the rear wheels while the car is cruising steadily but the four wheel drive system can be re-connected in less than 500 milliseconds, if required.
There is a reversing camera as standard on all models and a number of advanced driver assistance systems. These include Adaptive Cruise Control with Steering Assist, which centres the vehicle in the lane based on road markings as well as maintaining a safe distance from the vehicle in front. Lane Keep Assist, Autonomous Emergency Braking and Driver Condition Monitor are also fitted.