We might have expected a slightly longer life cycle from the current A4 but the arrival of the new BMW 3 Series has turned the heat up.
In German terms, four years is not a long time for a car to remain without being refreshed in some way but Audi has clearly responded to the arrival of the arch enemy of the A4, the BMW 3 Series, which is all-new and packed with the latest technology. However, the A4 has'nt been radically changed - there are no changes in the dimensions of the car, for instance - and the changes are mainly cosmetic.
What is interesting is that Audi will be offering many of the engines in the revised A4 with a mild-hybrid function, which uses one electrical motor to allow the car to run on battery at certain times. These include when the car is stopped, coasting or braking and offers commensurate savings on fuel and emissions.
The grille has been revised on the new car and the headlights will now LED units, which will be standard on all versions.
In the centre of the instrument panel, slightly tilted toward the driver, is a 10" MMI touch display, which is the control centre for the operating system. The contour/ambient lighting package adds highlights to the interior in the dark.
Audi says this MMI system "offers a user experience similar to a contemporary smartphone". The central rotary and push button currently used by Audi is being replaced with a touch display with acoustic feedback and a new voice control understands "many of the phrases used in everyday speech."
The Audi connect key option lets the customer lock/unlock the vehicle, and start the engine using a compatible Android smartphone.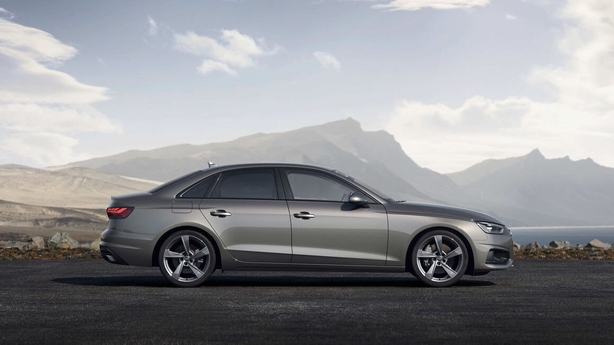 The new A4 has a choice of six engines.
There will be six turbocharged engines on offer initially, ranging from 236 HP to 354 HP outputs. All engines – whether four-cylinder diesel unit, V6 TDI or four-cylinder TFSI – "undercut the limits of the Euro 6 emission standard", the company says.
The mild-hybrid system runs on 12 volts, which reduces fuel consumption by up to 0.3 litres per 100 kilometres, according the company's own measurements.
Except for the entry-level TFSI, all A4's models have an automatic seven or eight speed gearbox as standard.
The new Audi A4 will be available to order from all local Audi dealerships from this autumn.