Peugeot's emergence as the most reliable car brand in the latest JD Power dependability study will come as a surprise to many, but what's equally revealing is how many prestige names are featured at the bottom of the list.
The JD Power study is one every car manufacturer wants to do well in because it carries international weight and can be a deciding factor for many buyers before they commit to a particular car. This year's study shows Peugeot coming in at first place and BMW coming in last.
This British JD Power study is based on responses from 11,530 owners of new vehicles registered from November 2015 through January 2018. It measures problems experienced during the past 12 months by original owners of vehicles in the UK after 12-36 months of ownership and was carried out from November 2018 through January 2019. It seems higher levels of technology are causing major headaches for manufacturers and owners alike.
The study looks at the number of problems experienced per 100 vehicles (PP100), with a lower score indicating better performance.
It measures 177 problem symptoms in eight categories: vehicle exterior; driving experience; features/controls/displays (FCD); audio/communication/entertainment/navigation (ACEN); seats; heating, ventilation and air conditioning (HVAC); vehicle interior; and engine and transmission.
Peugeot now ranks highest overall among all brands with a score of 77 PP100. Among the top 10 brands, nine brands are volume brands. Skoda (88 PP100) ranks second and Hyundai (90 PP100) ranks third.
Among premium brands, Volvo ranks highest with 106 PP100 and Mercedes-Benz (136 PP100) ranks second.
Opel and Volkswagen each receive two segment awards. Opel earns awards for the Insignia (midsize car) and Mokka/Mokka X (small SUV), and Volkswagen earns awards for the Up! (city car) and Tiguan (compact SUV).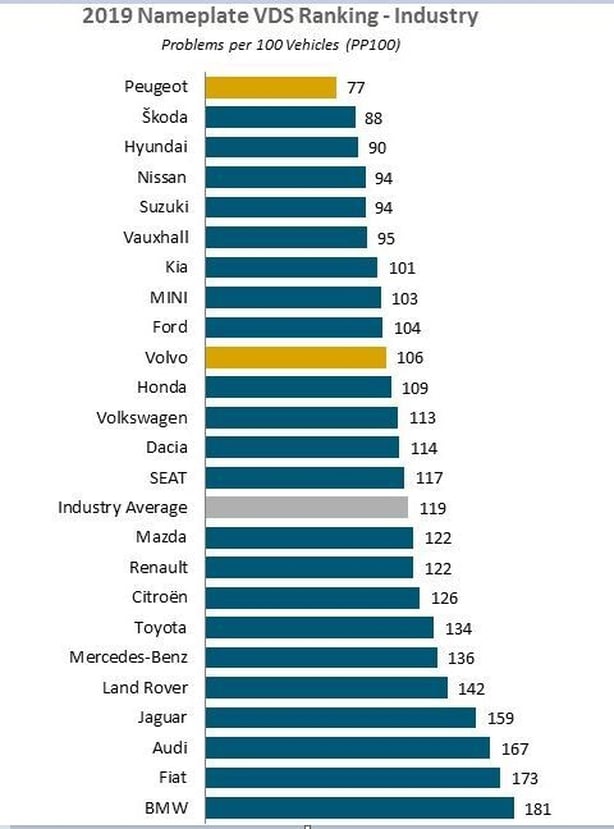 JD Power says the "race by manufacturers to cram new vehicles with the latest technologies is turning into a headache for owners, with audio/communication/entertainment/navigation (ACEN) systems comprising half of the 10 most problematic issues that owners cite in their new vehicle.
The key findings of the 2019 study were:
Problems decreasing: Even though problems with the audio/communication/entertainment/navigation systems have decreased from 2018, this category is still mostly driven by issues with navigation systems. Owners of premium vehicles cite more problems than owners of volume vehicles, mostly because a higher percentage of premium vehicles have built-in navigation systems than volume vehicles.
Engine failure: Engine problems have the greatest negative effect on quality and reliability scores across the industry, as well as among premium brands. In particular, owners of premium vehicles are 12 percentage points less likely to repurchase the same brand when an engine problem occurs.
Owners loyal to green vehicles: Problems with electric and hybrid vehicles are higher in total—and in the areas of ACEN, seats and engine—than with vehicles with internal combustion engines. However, electric and hybrid owners are more likely to repurchase or lease the same brand in the future.
Design issues affect APEAL: Of the 10 problems that most influence the APEAL (Automotive Performance, Execution and Layout) Index, eight of them relate to design, including excessive road noise; excessive wind noise; and materials scuff/soil easily.
Below are the rankings from the study on the various categories of cars: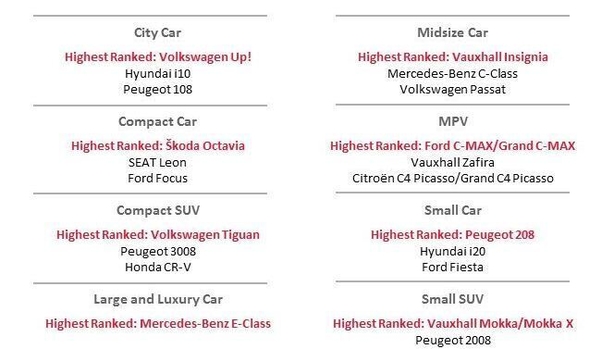 Technology is a major issue affecting reliability.
As technology becomes more sophisticated—and is considered a point of brand selection differentiation—brands are creating more potential problem areas. For instance, the average score for newer safety technology features (e.g., blind spot monitoring, collision avoidance and lane departure warning systems) is 2.4 PP100 (1.8 PP100 for volume brands and 4.0 PP100 for premium brands), which is notably higher than 1.5 PP100 for other optional FCD systems (e.g. alarm system, keyless entry, cruise control).
"When we look at the PP100 scores of relatively new safety technologies, it's clear that manufacturers still have work to do to perfect those systems—particularly premium brands that use them as a major selling point," says Josh Haliburton, Head of Operations. at J.D. Power.
'It's also going to be vital for vehicle makers to win customer trust in this technology if they are to convince potential buyers that fully automated vehicles in the future will be reliable. For example, such buyers are quite likely to question the safety of self-driving cars if brands still struggle with the accuracy of their navigation systems.'