If there is one car company that has embraced the philosophy of offering something for everyone, then Mercedes certainly stands out. In recent years its model range has mushroomed and there are now dozens of models and variants on its price list. It would be hard to complain that you can't find what suits you after you've gone through that list.
The latest to join the line-up is the revised and booted version of the A-Class and the design has been executed to allow Mercedes to further shed its older customer profile and generally conservative image. The company says it is already attracting customers for the A-Class who are on average 13 years younger than would have been the case for earlier A-Class models.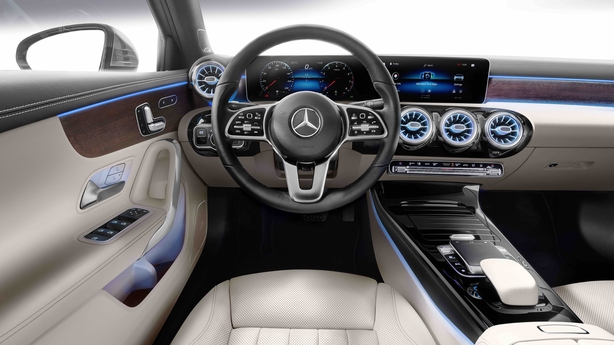 The A-Class saloon is a bigger car than the one it replaces, with an increase in length of 130 mm. With a 420 litre boot is now has 29 litres more than the older model. Front and rear headroom, shoulder room and elbow room have also been increased.
What has attracted the most attention at recent motor shows, however, is the new dashboard screen and control-and-display system that has been designed to look as if it floats in a 3D aspect and Mercedes' MBUX (Mercedes Benz User Experience) that uses touch screen, touchpad and touch button technology.
The system has "intelligent voice control, natural speech recognition and augmented reality features that include the capacity to 'learn' the driver's wishes and operate intuitively".
There is also a forward camera and radar with a range of up to 500m, a lane-keeping system, adaptive braking, distance control and driver assist systems.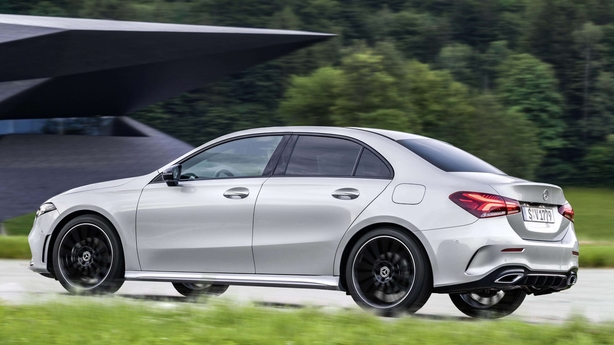 The main engines are four-cylinder 1.4-litre and 2.0-litre petrol units, and a new 1.5-litre diesel with power outputs in the 116 to 224hp range.
The gearbox is either a six-speed manual or a seven-speed automatic.
The first models to arrive here are the A200 petrol at €33,390 and the A180d Automatic at €34,220. There will be a later A160 petrol and A160 diesel, whose prices will be 'pitched competitively' around the €30,000 mark.
As if that wasn't enough, there is also an AMG sports version with a 2.0-litre four-cylinder turbo powered engine producing 302bhp and a 0 to 100 KPH time of 4.8 seconds. It is priced at €59,900. Features include a 7-speed automatic gearbox, sports suspension and full-time four-wheel drive.