It's ironic that it took one of Japan's smaller and lower-profile companies to come up with what has proven to be a winning formula - a largish SUV that combines plug-in electric motoring with a petrol engine producing low emissions. So, the Mitsubishi Outlander plug-in hybrid electric has become the world's most popular PHEV with some 200,000 sold around the world and a very solid footprint in Europe. We love our SUV's and crossovers and the green credentials mean tax benefits and a clearer conscience.
The concept is simple. Provide enough energy for the car to drive on electricity only for short journeys - the average commute, say - and then have a petrol engine to fall back on to ensure you can always continue to drive the car as long as there is petrol in the tank. There are, however, contradictions. When driving on electric you are producing zero emissions but when you fall back on the petrol engine you are using a 2.4 petrol engine that is not the most economical engine around.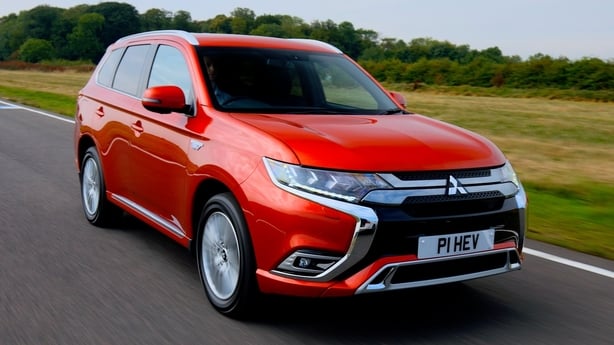 So, driving the Outlander PHEV is a bit like joining Weightwatchers. The whole concept is not going to bring the benefits you want it unless your routine is pretty rigid. You will get about 35 kilometres on electricity, certainly enough to get you completing that daily commute but you will have to be very disciplined about charging if you want to keep that electric charge and not revert to petrol. When you do drive in petrol mode that big engine is going to give you about 9.4 litres per 100 kilometres, or about 30 MPG. It's a good deal less efficient than many cars on the market and certainly a lot less so than diesel.
Charging can be completed fairly quickly - in about four hours on a standard charge - but the electric range is limited. If you do have easy access to charging, preferably at work as well as home, you can embrace the discipline. The obvious disadvantage is when it comes to longer journeys. The Outlander may be an ideal option for city commutes but longer trips will kick in that fuel consumption penalty and the Outlander's tank is not that big.
For the price - it starts at €39,900 thanks to SEAI grants and tax breaks and goes up to €47,500 - the Outlander represents a good package. It's spacious, but not overly so, and it certainly lacks the roomy dimensions of a Volvo XC. Its styling is a little dated and it has not changed all that much since it was first launched. But as an SUV it looks like can do the business.
The interior is not appealing. The overall finish feels a bit drab and things like the dated dashboard and display suggest a bit more budgeting consideration than you might expect. Again, the Volvo interior holds an effective mirror up to the Mitsubishi finish. However, you're not going to get an equivalent Volvo for anything like this price.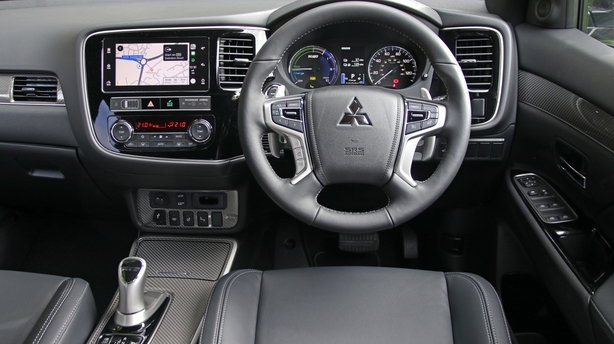 Handling and ride are average and the steering feels light. In bends, the Outlander has a tendency to roll a bit more than it should. Neither is the ground clearance all that impressive - a big consideration with SUV's. Most of the thought and effort here has clearly gone into the technology and emissions (emissions are as low as 46 g/km) and they are impressive. However, the car lacks much of the refinement offered by its competitors.
The boot on the hybrid version is a bit more restricted - as is the case with all hybrids -because of the battery accommodation and it comes in at 463 litres. Not bad, in fact, and extra space can be created by splitting the rear seats 50/50 for extra loads. However, it's also worth noting that you can't have a seven-seat arrangement on the hybrid because of the battery area - another issue for those seeking those extra seats for children.
The PHEV is quite well equipped. A hill start system, traction control, four wheel drive, automatic gearbox, emergency braking, lane departure warning, and active cruise control are all standard.
There is something of the curate's egg about the Outlander PHEV. There is a huge benefit to having an easily charged up electric range and having the tax breaks on this kind of motoring. However, there is an inherent contradiction on falling back on a 2.4 litre petrol engine with its attendant heavy petrol consumption. It's a bit like having two contradictory principles at work together.
Does it really make sense to be driving an SUV with a large petrol engine, even if it has a reasonably good electric range? And do people need them? The Mitsubishi sales figures suggest a lot of people don't agree with my thinking here.