Much of what dictates new car designs these days is dictated by niche filling. Volkswagen's new T-Roc is a case in point. The profile of the Golf driver (young and single or older and in need of less space) and the Tiguan SUV driver (family owners mostly) are well established but a gap exists between the two.
There are an awful lot of the people in between - those looking for a crossover or small SUV type car, who don't want either a Golf or the bigger Tiguan and who are looking for something a little different. That's where the T-Roc comes in.
It shares a platform with Audi's Q2 and is a good deal cheaper and it's also a very close relative of the Seat Arona, also from the VW family stable. That is not to say the T-Roc lacks identity or that it is simply the same car in a different guise. It has solid VW design - nothing dramatic but modern and clean in its lines - and a driving character of its own.
So what do you get? The T-Roc offers an elevated driving position for driver and passengers. This is one of the main attraction of crossovers, along with ease of entry - especially with children in tow. After that, you are back to a Golf with attitude, with common components and a not terribly dissimilar driving experience.
It's a good experience though. The car has good absorption on bumps, a well set up suspension and pleasantly precise steering. The car I drove had the 1.6 turbo diesel engine that offers perhaps the best combination for general Irish driving conditions, although the 1.0 litre petrol version is the one I would choose for primarily city requirements. I've made mention of this engine several times before as being a little noisy and limited for longer journeys but ideal for getting around town and for making shorter journeys. It's also a very good alternative to diesel.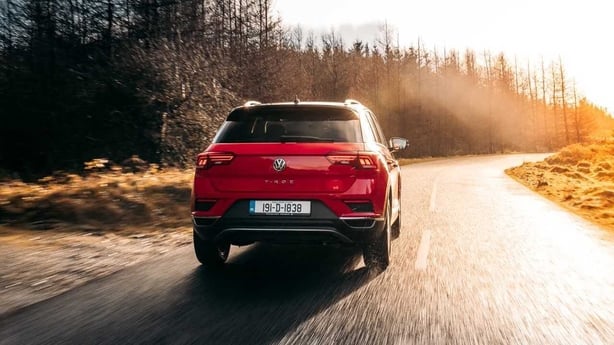 The car had VW's DSG automatic gearbox that is not quite as sophisticated as more expensive offerings but it has a good balance in terms of gear changing and pick-up.
The interior is in contrast to the sharply styled exterior. Like other VW Group models, it has a utilitarian finish, with a lot of plastic and sharp edges. It is more functional than pleasing and reminds that you that niche filling models don't always have the level of investment to give them a defined and more intimate experience.
Mind you, it's a complaint I have about many new cars that have a cheaper finish than their price tags might suggest. The 6.5" screen is functional and has good graphics but it's smaller than I'd like, even if it seems like a reasonable fit for a car this size.
Rear space is a bit of an issue too, as it's limited and a few in the back could find things a bit cramped. This is not a Tiguan, after all.
The boot is a spacious enough 445 litres that should accommodate most requirements and there is also a 60/40 rear split for the seats to take those occasional bigger loads. The boot is also easy to access and does not require too much stooping or reaching when loading.
Standard equipment on the T-Roc includes 16" wheels, dual climate control, Bluetooth connectivity, a lane departure warning system and emergency braking technology.
Prices start at 27,350 Euros but the automatic version I drove with some extras, such as tinted glass in the rear, costs 32,389.
The upsides are the elevated driving position, a good practical internal layout and a good boot. The diesel is also economical at around 6.2 litre per 100 kilometres but many people have already begun to drift away from diesel to petrol, in which case the 1.0 litre may be a good deal more attractive. There is also a 1.5 petrol option. The design of the car is one of its major strengths and the profile is very appealing, especially at the front and rear.
The downsides are the internal finish, which has a decided lack of warmth, and the fact that the basic specification is nothing special when other manufacturers offer just as much on even smaller cars. Toyota's basic package is a good example.