Speed, advanced technology and a beyond-the-pockets of most price tag are all hallmarks of BMW's new 8 Series coupe.
German car manufacturers make much of their chassis dynamics development, all the time coaxing more engaged and challenging behaviour from their cars. Much attention is paid through this kind of engineering to even the 'entry' level cars like the BMW 3 Series and the Mercedes C-Class, with driver engagement seen as a major selling point.
However, many drivers look to price, quality, comfort and prestige more than they look to ride and handling when making up their minds.
When it comes to cars like the new 8 Series though, there really isn't any room for confusion. This is a car that offers pure performance over things like comfort and other more mundane considerations. Practicality is not a priority – a driving experience that offers oodles of power, grip, ability and precision are.
Let's start with the figures. To some they will look simply ludicrous, while to others they will seem fascinating, as boundary-stretching examples of advanced car performance and aspiration. One thing is pretty certain: you are unlikely to share both viewpoints about the new BMW 8 Series.
This low-slung, two-tonne car is designed specifically to reflect performance, speed and more speed. It's 2.8 metres long, 1.9 metres wide but only 1.3 metres high, so it's big but low.
The petrol version has a zero to 100 KPH time of 3.7 seconds and a 316 horse power output. The diesel has a massive 523 horse power output and a 4.4 litre V8 engine. The petrol costs €165,584 and an inexplicable 99 cent. The diesel costs €125,725.
Maybe at this stage you have lost interest, or you're pretty hooked – in which case you are most likely a man because the scientists tell us that men have a very different experience when they speed.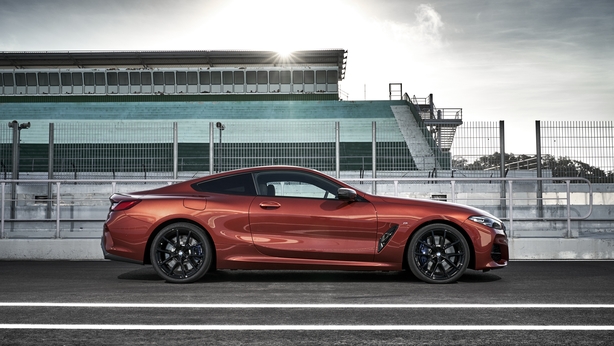 According to one journal, when you speed "there is a sudden spurt of the adrenaline hormone in your body, which in turn has many effects: your blood pressure rises instantly, your heart beat races, your body temperature rises, and you can feel a tingling in your limbs. These effects are seen in both males and females, but are decidedly more pronounced in males. This is why the obsession of speed is commonly associated with testosterone".
The eminent psychiatrist, Dr. Raj Persaud, also once pointed out many men choose cars that look like the 8 Series because they can park the car alongside lesser vehicles and make a statement.
If you fit that bill you're going to be very impressed by the new 8 Series. It's crammed with technology like a super efficient adaptive damping system, all-wheel drive as standard and the use of carbon fibre, steel and aluminium. BMW describes the car as being virtually lift-free and it really does glue itself to the road. Apart from the raw power available, you can feel the influence on the car's engineering of racing technology.
Its anti-roll abilities, for example, are so impressive that you find yourself wondering if it is possible to challenge the car at all. Knock off the traction control and you'll find out pretty quickly that when driving a car like this you sometimes need to be saved from yourself. With this car, you will actually need a race track environment to allow it to show what it can do. Much of what it can do isn't legal.