BMW has launched its top of the range SUV and its re-styled 7 Series executive saloon. Both feature advanced technology and predictably hefty price tags.
As SUV's go, they don't come much bigger than the new BMW X7, a car most definitely designed with the American market in mind. And even in that freeway market a car measuring over 5 metres in length and 2 metres in width should make the kind of statement this car is intended to make.
Those who can afford it in Ireland will certainly find its dimensions a challenge when it comes to parking in a tight spot but that's unlikely to deter them from driving what they will see as one of the ultimate status symbols, even in the big beast SUV world of Range Rovers and Mercedes'.
All versions of the X7 are full-time four-wheel drive and there are three six-cylinder engines to choose from. If you can call it such, the entry-level version is a 3.0 litre diesel producing 265 horsepower.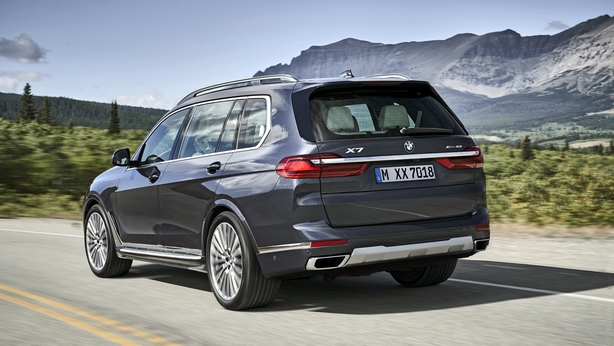 It's followed by a 4.0 litre petrol producing 340 horsepower and a 5.0 litre M-Sports diesel version with a hefty 400 horsepower on tap.
The 3.0 litre diesel comes in at €113,000, the 4.0 litre at €120,890 and the M-Sport starts at €117,030.
BMW has gone for a seven-seat layout as standard – it comes with an extra row of two seats in the rear.
Standard equipment includes leather upholstery, an automatic gearbox, a leather dashboard, LED lights, a digital cockpit, wireless charging and Wifi, and air suspension.
The M-Sports version gets bigger wheels and an aerodynamic driving package as standard.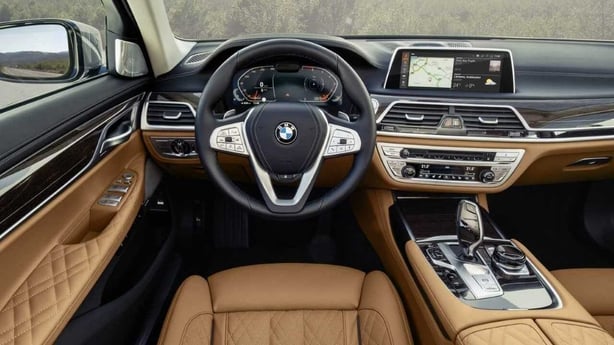 Like the X7, the revised 7 Series saloon gets a pretty massive grille that makes another statement - it's a feature one suspects has been borrowed from BMW's stablemate, Rolls Royce, and is again probably introduced with very specific markets in mind. The very affluent Emirates, for example, because that is where this car will be very much at home.
The tweaks to the 7 Series are just that. Along with the massive grille, the front bumper, bonnet, and wings have been restyled, there are slim new LED rear lights and lighter alloy wheels. There is also a new soft-close feature for the doors - a reminder that detail is all-important for a car like this. Otherwise, it is unmistakably a 7 Series - a car that hasn't really changed all that much over recent incarnations.
There is a choice of two engines - a 3.0 litre diesel and a 4.0 litre diesel. The first comes in at €96,160 and the second at €107,910. You can also have four-wheel drive as standard for about another €8,000.
And if all that space isn't enough for you, you can have a longer wheelbase too. That version starts at €101,910.